It's Christmas morning and Santa was generous, leaving me a new Kindle Fire HD under the tree. Terrific and I'm excited to try the Kindle reader, except I'd really like to be able to browse Amazon and buy ebooks directly on the Kindle itself. Can that be done, can I use the Kindle and just leave my computer off, browse the online bookstore and buy and download a book directly?
First off, Merry Christmas to you. Sounds like you must have been at least pretty good this year to get such a generous present from the guy from the north pole! The Kindle Fire is a very slick unit, actually, and while it can do just about anything other tablet computers can do, including browse the web, give you access to thousands of different apps through the Amazon App Store, etc, at its heart, it's still a Kindle which means that it's a really good digital book / ebook reader.
The piece that's usually missing in people's discussion is how you actually get books onto the device in the first place. I mean, it's not magic, you don't just say "Hey Kindle, I want to read the latest John Grisham novel. Get it for me!" At least, not yet. Perhaps that's an update coming early in 2013 for all we know. 🙂
In the meantime, Amazon's done a really good job of creating an online bookstore and making it really no more than a half-dozen taps from entering the bookstore on your Kindle to actually reading the first page of the book you've chosen. And that's even easier if you've already logged into your Amazon account, which you probably have because that's the very first step needed to be able to register a new Kindle.
Smart, these Amazon developers!
So with your Kindle logged in to your Amazon account, here are the simple steps you'll need to take to purchase and download a new book onto your Kindle Fire HD, and start reading it. You'll see, it's easy.
To start, here's my home screen on my own Kindle Fire. You can see, I already have a number of books downloaded onto the device, including Year of Meteors, which I'm currently reading: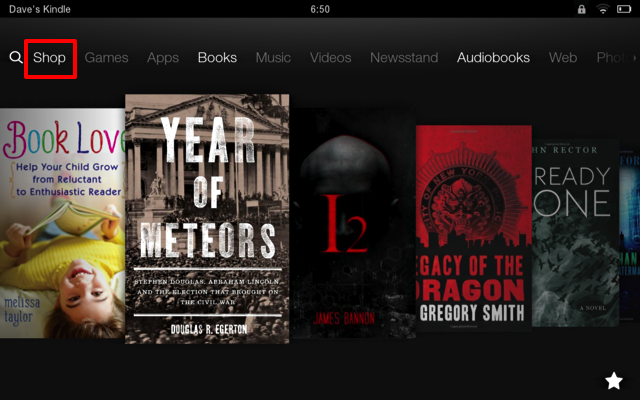 Notice on the top left there's the word "Shop" adjacent to the magnifying glass icon. Tap on it and you'll be transported to the Amazon store: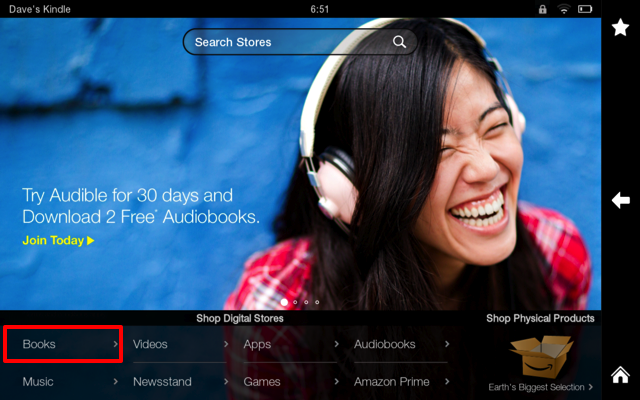 Of course Amazon would be delighted to have you buy tons of stuff, so this isn't just a bookstore but a place where you can get apps, videos, music, magazines, and much more. You can even get audiobooks and find them hilarious, as the gal in the picture is clearly doing! 🙂
To get to books, simply tap on "Books" on the lower left. Now you're in the actual ebook store…
Here's where you can spend a ton of time browsing all the different Kindle-ready books that they have made available. There are thousands upon thousands, including very low cost "shorts" that range from 50-100 pages (or thereabout) and offer a sampling of different authors without the cost of a full novel. A neat innovation.
You can also browse by category, keep an eye on daily deals (my personal downfall, that's why I have so darn many ebooks on my own Fire, actually, because there are a lot of great books that end up 50%, 60% or even 70% off when they're a daily deal!) and much more.
Eventually, however, you'll get to a page about a specific book where you can read a summary of the story, user reviews, and often even excerpts.
One series that's been very successful on the Kindle is
Wool
and as I was researching this particular article I bumped into a collection of the different short books, the
Wool Omnibus
:
Looks darn interesting and the reviews are phenomenal (when was the last time you saw a book with almost 3000 reviews and a full five stars?) so I've decided to purchase it. To do that, I tap on the bright orange button on the left, labeled "Buy for $5.99".
I have parental controls on my own Kindle to ensure my kids don't go wild buying tons of stuff, so it prompts me for the password:
Once I enter that — and I'm not going to tell you the password since my kids are savvy enough to read my blog for these sort of clues! — the book purchase transaction is completed, my Amazon account is charged the $5.99, and it begins to download automatically: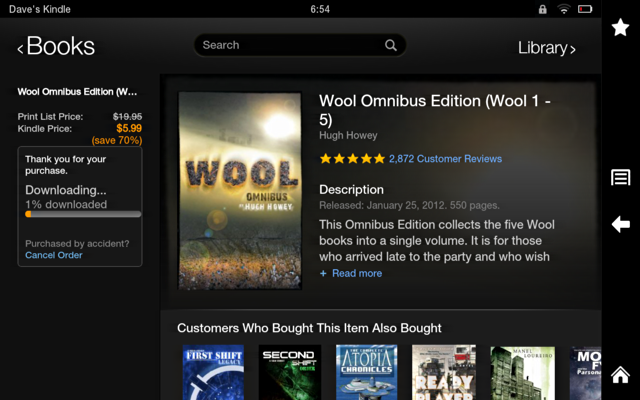 Here you can see that I've only downloaded 1%, but it really does download fast and I would say that the entire 5-volume Omnibus edition was fully downloaded within no more than 10 seconds with my wifi Internet connection. Without me having to get off the couch once!
Once it's downloaded there's a green "Read Now" button I can use as a shortcut to get to the new ebook, or for a small additional fee, I can get the narration, turning the book into a sort of kids read-along story. Not really my idea of how to enjoy a book, but perhaps you'd find that an interesting option for the very small incremental cost.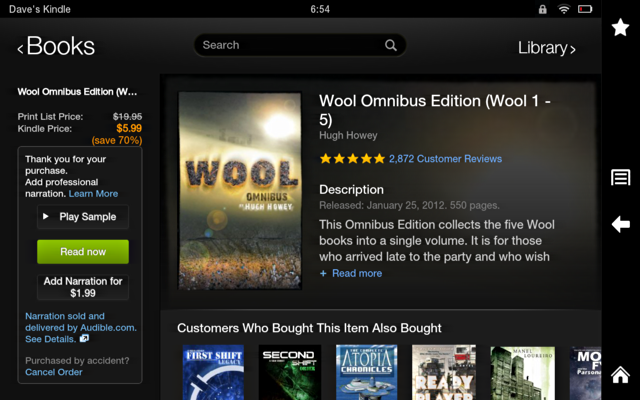 Instead of going straight to the book from here, I'm going to instead simply tap on the word "Library" on the top right, leaving the Amazon store and going back to my own home page. The new book is now right up top, with the small check mark denoting that it's already been downloaded onto this device, as we know:
I'm ready to start reading the book, so I'll tap on the book cover and… here we go!
Remember, if you want to change font size, background color, etc, tap once on the middle of the screen to bring up the controls, then make the adjustments you want to create the most pleasant reading environment possible. Don't worry about big type: no-one will know what your settings are, and it is easier on the eyes to have bigger typefaces. 🙂
Enjoy your Kindle Fire HD, check out the wide range of different books through Amazon (including a lot of classics at remarkably low prices) and have a very happy holiday season!