I travel a lot, flying to a city then driving around visiting customers. It's pretty boring. So I listen to a lot of audio books (or are they "audiobooks"?) on my iPhone. I recently finished one while in Houston and was stuck: for future reference, is there a way to buy a new audiobook directly on my iPhone, without a computer involved?
I've always wondered about sales people who drive so much, actually. I certainly enjoy long drives, and have taken many of them, but they're still far between and I can go for many months without being in the car for more than an hour. Sounds like you don't have that luxury!
It's also cool that you have realized that your iPhone is a quite functional iPod alternative and is a simple and portable tool for carrying and listening to audiobooks. I do the same at the gym, actually, and it lets me listen to the same audio book in my car if I want too.
But buying an audiobook on the phone? Yeah, there's a pretty simple way to do that.
Here's what I did recently when I decided to relisten to Zen and the Art of Motorcycle Maintenance, a classic sort of "hippie" book from the mid 70s.
The app you want to use is iTunes: it's a pretty purple icon on your iPhone. Find it and tap on it. First thing you'll see is new music: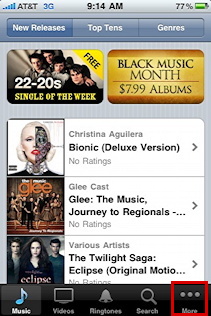 See the "More" option on the lower right corner? That's what you want to tap on. Now, surprise, there's more than just music and video in the iTunes store: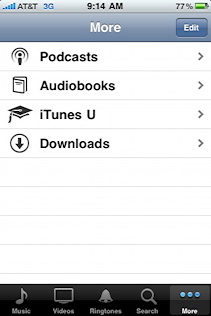 You can guess, but I'll say it: tap on "Audiobooks" and you'll see what's popular:


That's actually not what I want, though, I just wanted to show you it was there. What I want is the search feature, which can be found along the bottom row too. Tap on it and enter a few words that describe the title you seek:


Hmmm… two matches for the same audio book? A bit of research shows that one is unabridged and the other is abridged (or shortened). Since the abridged version is still over six hours long, that's the one for me:


In case you've never purchased something from iTunes before, you tap on the price and it changes to a buy button:


Yup, tap on the buy button and you're purchasing the audiobook.
Well, once you verify your identity: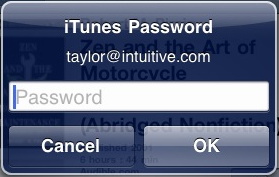 Oh, and just about every audio book you check out is going to have this problem:


No worries, however, because next time you successfully connect to a wifi network (like at a café or client's office) it'll automatically download the audio book.
Once that's happened, go to "iTunes" (probably along the bottom of your iPhone screen, it's a cheery orange icon), again tap on the "More" button on the bottom right, and: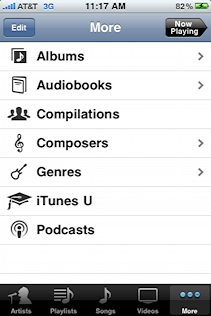 Oddly similar. Go figure. Tap on "Audiobooks" and…


Ahhh, there it is. Mission accomplished. Audio book found, acquired, downloaded and ready to enjoy, all without ever touching a computer.
Good luck and let us know what kind of audiobooks you enjoy too!