I might be the only iPhone owner who doesn't know this, but how do I actually buy and download an app for my new iPhone 4? I know the ads show it being super easy to get apps, but they don't show you how to actually do it. Help!
I've had an iPhone since the first week they were released, so in a way I've kind of grown up with the iPhone software. As a result, it's easy for me — and other iPhone users, including those at Apple — to forget how confusing it can be when you first get your iPhone from the store. Some things are intuitive, but truth be told, before you add a single iPhone App, it's already pretty confusing and busy with twenty-plus programs included as part of the phone itself.
No worries, though, you've come to the right place for simple, coherent iPhone help!
The starting point for our adventure — buying a copy of Angry Birds Seasons — will be the "App Store" application on the phone. If you have an iPad, by the way, you can play along too: it's about 95% the same, just bigger. 🙂
The icon looks like this and it might well be on your second screen (swipe your finger right to left across the middle of the screen to "go right", or left to right to "go left". Try it, you'll see what I mean). Look for an "A":


Tap on the icon to launch the App Store. You'll start out with a display of some of the best and most popular applications out of the hundreds of thousands in the store: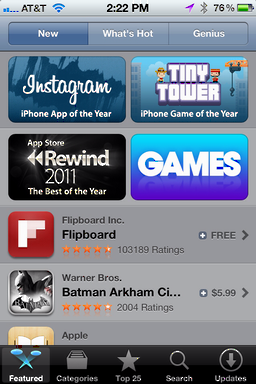 Look closely above and you'll see that "Flipboard" is free, while "Batman Arkham City Lockdown" is $5.99. The difference between free apps and those with a pricetag is surprisingly subtle, and in many areas there are free alternatives to paid apps too, particularly with utilities, so it's smart to get used to exploring the App Store.
We're on the hunt for
Angry Birds Seasons
, however, so tap on the little magnifying lens icon on the lower right, labeled "Search".
Now a rather uninteresting page appears: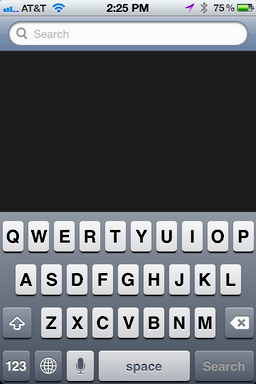 Start typing in the name of the app you want or a word or two from the description of an app you seek (like "translate spanish" or "breakout" or similar) and it'll immediately start offering up suggestions: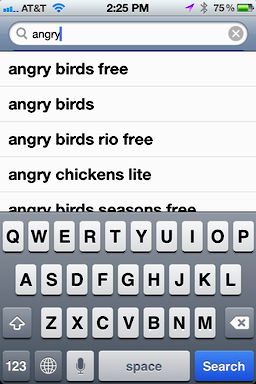 I'll just tap on "angry birds" to see the full range, but you can tap on any of those and you can also always back up to the search again if the app it shows isn't what you seek.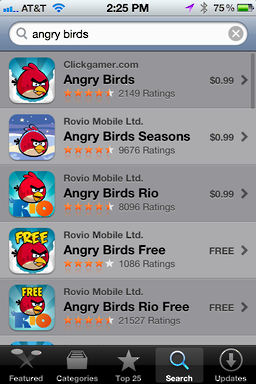 The second choice is what I seek, Angry Birds Seasons, and close examination reveals that it's $0.99, quite inexpensive for a popular game! I'll tap on the blurb to reveal more information about the app: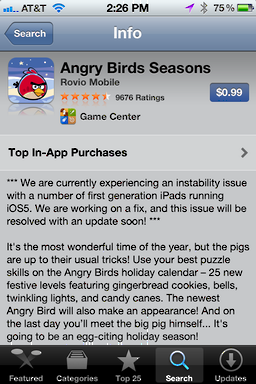 This is a great spot to see the challenge facing someone new: where's the "buy" or "download" button? Turns out you tap on the price to buy and download the game, but it sure isn't obvious, is it? Tap on "$0.99" and it switches to:

Now it makes sense, but you still have to know the trick to get this started!
Ready to buy the App? Tap on "Buy Now". If it's a free app, it'll just say "Install" instead.
If you haven't set up an Apple Store account, you'll be prompted to do so now. If you have one set up then you'll be prompted for your password: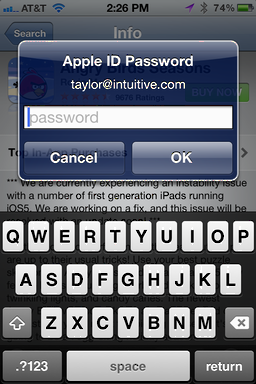 Why the need for a password? To ensure that eager little fingers don't buy every app in site without your approval. It's a good idea to have a complex password for just this reason!
Once you've successfully entered your password, the App Store quits and you're left looking at your iPhone main page. But there's a difference, because you'll see a semi-transparent version of the new app's icon and the message "Waiting…"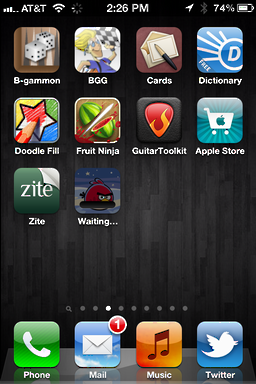 What's it waiting for? The download of the App to start. Once it does, "Waiting…" switches to "Loading…":

And once it's done you'll see the name of the App — in this case "Angry Birds" — and the full icon on your phone:

Ready to play? Tap it, and you're on your way to attack those nasty pigs!
That's all there is to it. As they say in the ads, "lather, rinse, repeat".
Now you can buy all sorts of different apps for your iPhone or iPad with ease. Just beware, those $0.99 and $1.99 apps can add up surprisingly quickly!