I don't have one of those fancy iPod Touch units, but my recent iPod Classic appears to have the ability for me to buy and install games on it. Problem is, when I go to the App Store, it's all iPhone / iPod Touch / iPad related and there's no link of any sort to iPod games. Do they still sell these games?
That feels like a blast from the past sort of question as I am surrounded by iPhones and have both an iPad and an iPod Touch, but I also have an iPod Nano and a couple of iPod Classics, so let's see what we can figure out.
As you have figured out, simply going to the Apple Store in iTunes isn't enough. It shows mostly music, some video and has links to iPad and iPhone apps. But none of those is an iPod Classic game…
So what's the secret?
I actually had to search the Apple support area to find out the secret link, but once you know it's there, the entire process is surprisingly simple and straightforward.
Here's the iTunes Store within iTunes on my Mac: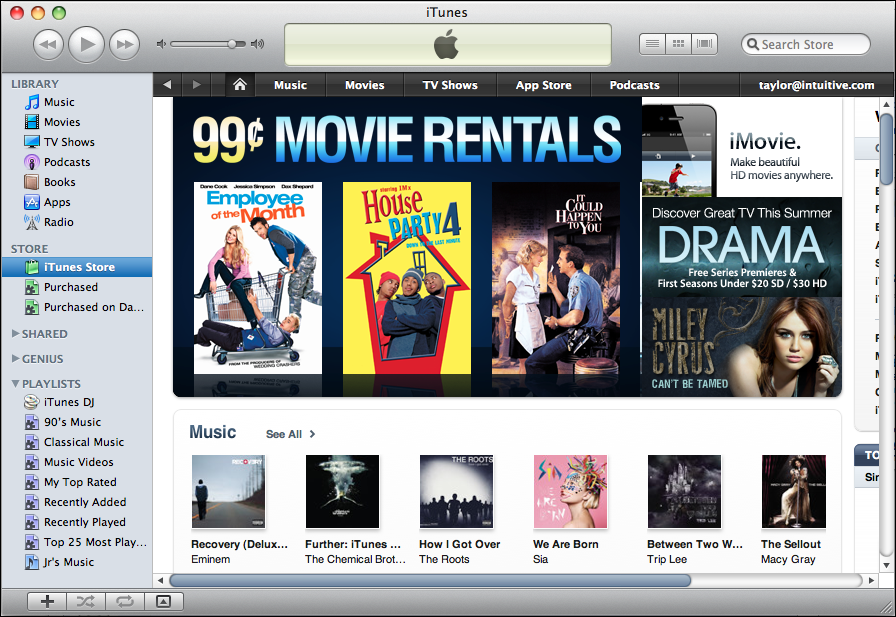 See that link along the top for "App Store"? Turns out that's a pull-down menu. Move the cursor to it and you'll see a tiny white triangle show up. Click on it:

There ya go. "iPod Click Wheel Games".
Really, we're probably done since now you know where these games are, you can figure out the rest, but in the interest of completeness, I'll show how you can buy an iPod Nano or iPod Classic game anyway.
Click on "iPod Click Wheel Games" and you'll see that there's a surprising number of them: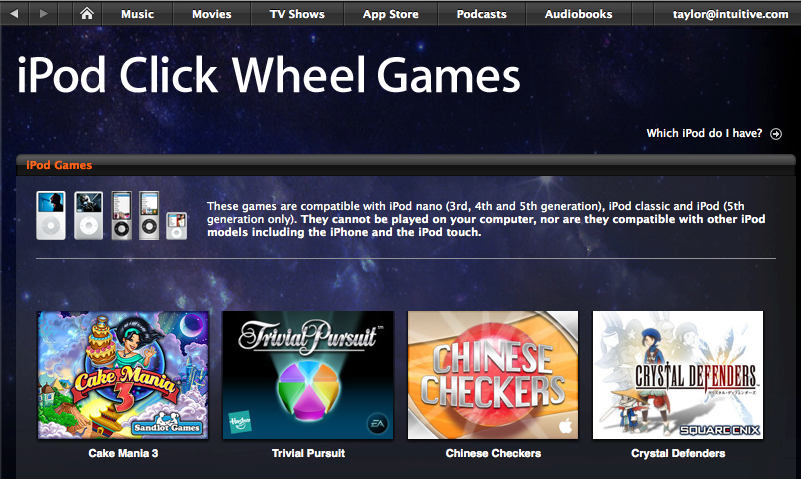 Note the disclaimer here: Click Wheel Games are only compatible with 3rd, 4th and 5th generation iPod Nano, iPod Classic and the 5th generation iPod. If you have an older iPod (or a shuffle, for what I hope are obvious reasons) you're out of luck.
Assuming you've an acceptable iPod, which it sounds like you should have if you have an iPod Classic, scroll down and find a game that sounds interesting.
For me,
Ms. Pacman
caught my eye, so I clicked on it:
To purchase and download the $4.99 game, I click on "Buy Game"…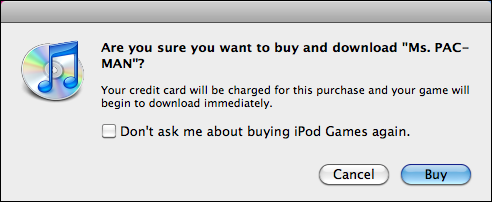 Yup, that's indeed what I want to do, so I click on "Buy" and it immediately begins downloading:
Next time I plug in my iPod Classic, I have a closer look at the menu options along the top. Do you see "Games":
Click on the "Games" tab and you'll see your purchased games are listed:
Sync up your iPod and your Mac (or PC) and you'll have a new game on your iPod to enjoy!