I've bought a fair amount of music from the iTunes store and have also ripped much of my old music collection too. Now I want to make a few audio CDs of favorite songs that I can listen to in the car. How do I do that?
I have waxed poetic before about how wonderful Apple's iTunes application is and how it has significantly changed my relationship with my own music collection. I have over 500 CDs scanned into my computer and a dozen or two purchased from the iTunes store too.
My car has an iPod interface, fortunately, so I don't have to burn CDs of my own to enjoy my favorite music. On the other hand, my 12yo daughter just recently started asking to make a few "mix tapes" (well, that's what I'd call it, she just wants some CDs).
Here's how we made one for her, a process that's identical to what you'll want to do to create your own music CD or collection of CDs.
The first step is to make a new playlist that'll represent the music you want to have on your audio CD:

Next step is to give the playlist a nice name because, well, why not? You can do this by simply clicking on the playlist name and typing in the new name you'd prefer. We called ours "My Music CD":
Now it's easy: just go to your music library and drag whatever music you want to add directly onto your playlist, as we're doing here:
Notice the green "plus" sign. That shows you that you're adding the chosen song (in this case Taylor Swift's "Love Story").
Keep doing this until you have the music you desire added. Keep track of the info on the bottom of the screen as you go, though: when you're around an hour of music, your new music disc is probably full.
Notice the bottom of this screen shot: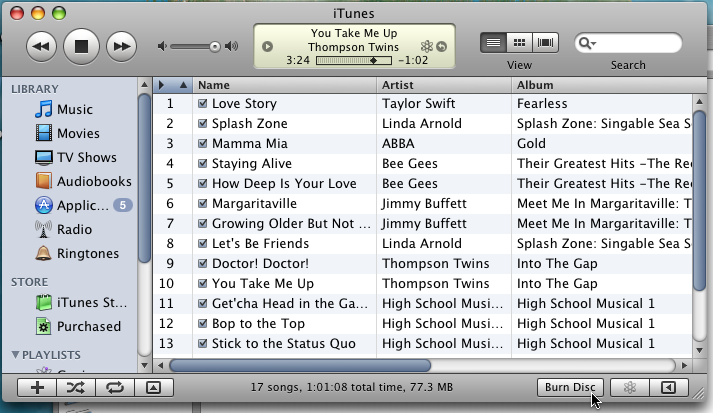 As you can see, we have 17 songs, representing an hour and one minute of music, 77.3MB.
To burn the actual music CD now that we're ready, I simply click on the "Burn Disc" button on the bottom, as shown.
The program will promptly show your disk burning settings: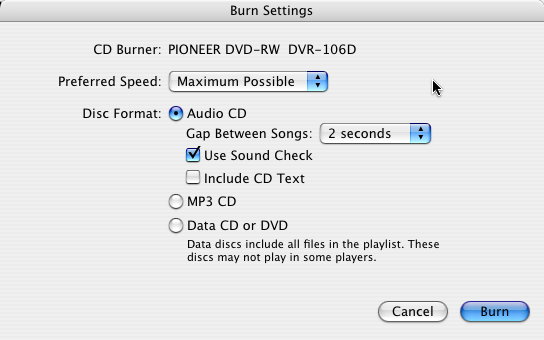 Look good? Click on "Burn" and you'll be prompted:
Slip a blank music CD into your drive and a few seconds later you'll see:
and, finally:
Done! And now you know…