I saw your earlier article about how to pair a bluetooth speaker with a Mac OS X system, but am wondering about how to do the same with my son's older LG phone? I know that the iPhone has a good connection with the Mac OS X system, but what about other cellphones that support bluetooth? How do you pair 'em?
It's actually not too difficult to pair a generic bluetooth cellphone with your Mac, whether you have an iMac, MacBook Pro, or even a Mac Mini. The key is to know that the "Bluetooth Setup Assistant" is magically launched when you're in the Bluetooth system preference and go to add a new device.
Of course, adding a device is slightly less intuitive than it could be, particularly if, like me, you have already paired other devices with your system.
It's a nuance of bluetooth, actually, that I didn't realize until I was working with it on multiple devices: "pairing" something generally means that the computer knows about the device and can then connect to it faster in the future. The device "trusts" the computer to connect too, so both devices remember the connection.
However, they're not actually connected when you have paired them. You still have to connect them for the specific use you desire (audio output with the speakers, file transfer with the cellphone, etc). It's kinda like "pairing" is when you build the pipes from the faucet to the water main, but no water is yet flowing so you still need to turn that on too.
Let's pair things and you'll see what I mean.
Start out by going to Apple –> System Preferences… and look for "Bluetooth":



When you click on it you'll see the list of devices you have previously paired with the computer — if any — as I have with my daughter's cellphone and the wireless bluetooth speaker system I'm evaluating for a review (The YUBZ Magnum):


What you want to do is click on the plus sign in the lower left (highlighted above), to add a new paired device.
Now you'll launch the Bluetooth Setup Assistant and see this:


Patience, young padawan, your device should show up momentarily. If it doesn't, check the device to ensure that it's in "discoverable" pairing mode: many phones require you to go to a certain spot in the configuration or settings. Hopefully, this is what you see after a moment or three:


Click on "Continue" and it'll try to connect:


(I'm blanking out the device name to protect my son's privacy btw. Yours should be in focus!)
Once the Mac and the cellphone see each other, the Mac offers up a security code that you'll need to enter on the phone to validate that you do want the two to pair (why? Because otherwise anyone with a computer could connect to your cellphone and grab data off it, including your phone directory, etc. Not good):


Enter the code — you have about 90 seconds to do so — and if you have "share Internet connection" configured on your Mac, you might well see this:


If not, no worries, and if you do see it, you can also skip this step, as I did, by clicking on "Continue".
That's basically it: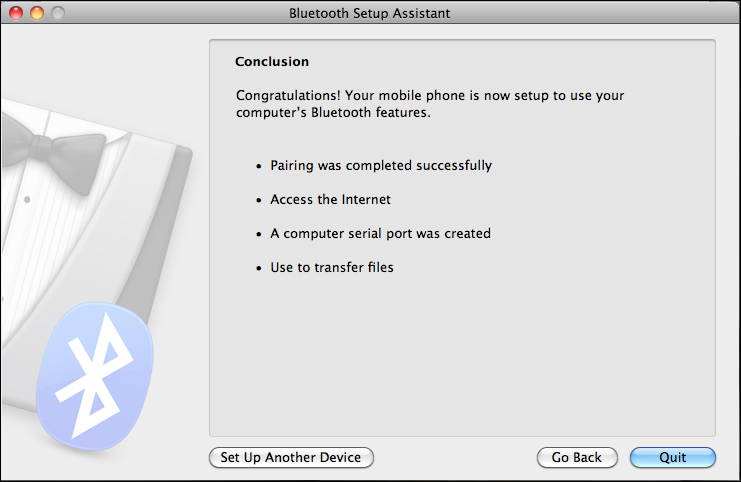 Here's the wrinkle that I noted at the beginning, though: the phone isn't
connected
to the computer, they're just paired via bluetooth. To connect you'll need to either use a service that automatically connects (like "Send File…" from the Bluetooth menu, if displayed) or you need to click on the little gear button on the lower left and choose "Connect…" from the options.
I have another article coming about this second step, so stay tuned for that!