Stupid MySpace and its stupid applications, I now am drowning in invitations to sign up for goofy applications that are supposed to make my experience in MySpace better. Duh, it's about my friends, not these apps. How do I stop these MySpace applications from taking over my experience there?
Easy there. Yes, I agree with you that MySpace has apparently tried to steal all the good ideas on FaceBook and implement them, including the flying zombies, sheep, and other social applications that are intended to help you play with your new online friends. That's fine, though, because companies all gain inspiration from others and ideas evolve much more than they spontaneously appear.
Nonetheless I do understand what you're talking about and just as I do in FaceBook, I also have learned how to block MySpace application invitations. Here's how this works…
First step is to log in, of course, then look at the navigational menu on the left side. It should look like this: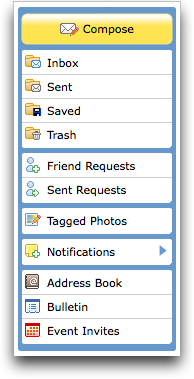 Click on the tiny triangle adjacent to "Notifications" and you'll see something new appear (I've highlighted it here):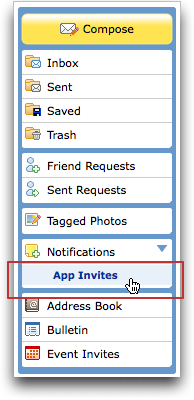 Click on "App Invites" and you'll find that you see a nice list of all the applications to which you've received an invitation, including who invited you and, if more than one person has done so, how many have done so. This gives you some popularity information too, of course. Here's the app that I have the most invitations to join: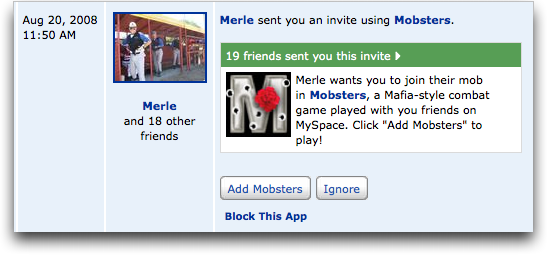 It may be fun, but this isn't really something I'm into, so what I don't want to do is "ignore" it, what I want to do is never be invited to join "mobsters" again. I do this by clicking not on the big "Ignore" button, but the small text link "Block this app".
When I click on it, I then see: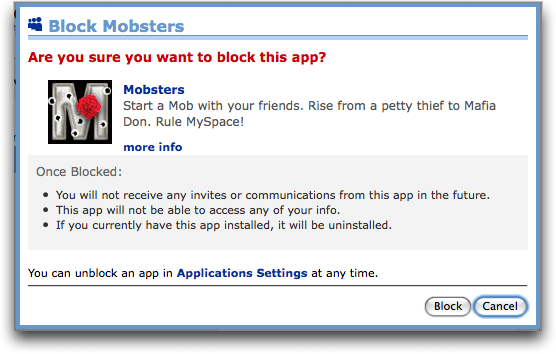 Click on "Block" and that's it, I will never see another invitation to let the Mobsters application gain access to my MySpace profile data. Apply this more broadly and you'll find that you can fairly quickly shut off all the popular applications and regain control of your MySpace profile.
Finally, if you need more
MySpace help
, please don't hesitate to poke around here on the site. Or, what the heck, check out
my own MySpace profile
!