I hate to check my mailbox on MySpace because there are a half-dozen people who seem to have some spamming tool or something and send me dozens of "Request to Approve Comment" messages. What the heck is up with that and how do I block these people?
If you're getting"Request to Approve Comment" messages, you've obviously turned on the "approve comments before posting" feature — something I highly, highly recommend for every MySpace user (see cutting down MySpace comment spam for details on how to do this).
Here's the good news: you can actually block these comments, turning them into email on MySpace and ignore that email too, all invisibly once you get everything set up properly. I'll show you how I implement my "zero tolerance for comment spam" policy on MySpace in just this manner…
When I get a request to approve comment on MySpace that's clearly spam, like this: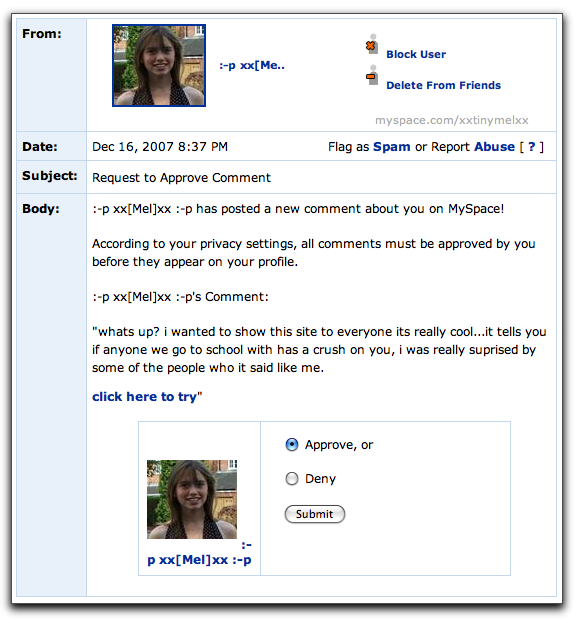 I could "flag as spam", but instead I often give MySpace users the benefit of the doubt (unless it's a glaring example of the worst kind of porn spam) and just block them from bothering me again. This is done by clicking on
Block User
on the top right corner. Now you see: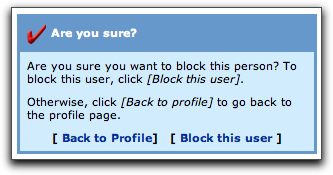 You do want to do this – which means that you will
never
get email from this MySpace user ever again – so click on "
Block This User
" and you're done. Now they can email you to their heart's content and you'll never have to see one of their messages — or request to approve one of their comments — again.
Still looking for more MySpace help? Then do spend some time exploring the 100+ articles on MySpace we have here at AskDaveTaylor. Curious about my MySpace profile? Check it out!