I love my iPhone and have been having all sorts of fun playing with it. What I want to do, however, is assign custom ringtones for some of my friends. Ultimately, of course, I'd like to have specific songs for specific people, but even just having the ringtones that are included with the phone assigned would be cool.
Glad to know that you want to learn how to take step #1, assigning per-address book contact ringtones to your friends, before you go further. Why? Because that's quite easy to accomplish, easier than it is with any other cellphone I have ever owned or used.
On your iPhone, go to "Phone", then "Contacts" and find the contact whom you want to assign a custom ringtone. Got it?
Here's one I'll use for this demo: the phone number of the local Apple Store: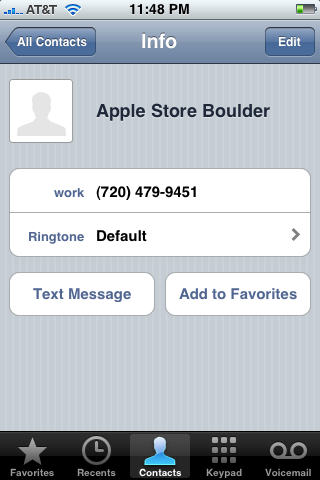 What you want is to click on the "Edit" button on the top right: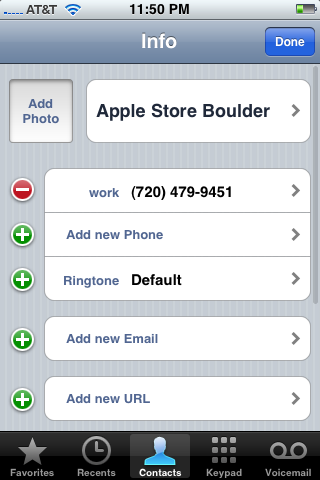 Notice halfway down "Ringtone" and the value "Default". That's what we want to change. Touch that spot, and: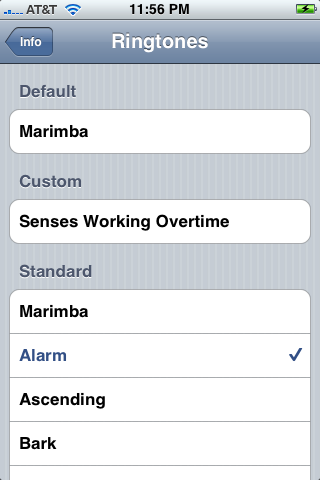 As you can see, it shows you the default ring, any Custom ringtone you might have bought or created, and all the Standard ring tones too. I'll assign "Alarm" to the Apple Store – just in case they call me – and click on "Info" on the top left. Now I see this: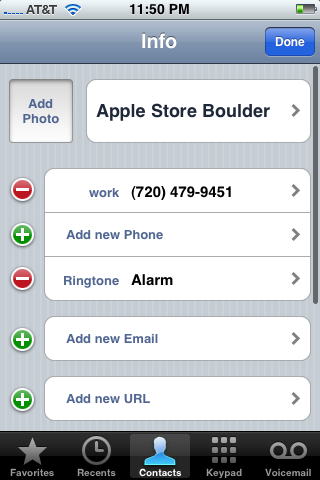 One more step: click "Done" on the top right. Now you can see things are a bit different: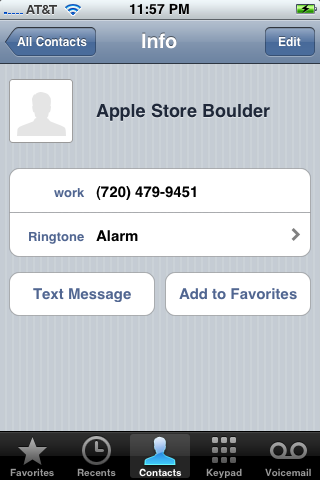 That's all there is to it. If you have custom ringtones (from music, etc) then they show up on the same screen as the Standard ringtones. Select your favorite, or, perhaps, the one most suited to a particular friend or colleague, click "Info" and "Done" and you're done.
Isn't that delightfully easy?