My son and his friends are really into a iPhone program called Foursquare, and whenever they go somewhere, they "check in" so that they can find each other. Neat idea. Is there some way that I can add my own restaurant to the list of places where people can check in so that they'll see we're popular and perhaps check us out?
Cool idea, I like that you're embracing these new geolocation games (as we call 'em) rather than assuming that they're a waste of time. Like your son, I am a big fan of Foursquare and when I want my friends to know where I am hanging out, I'll check in as I travel through the day. The value of the game isn't to get points, though, it's that you can easily ascertain where everyone else is. At least once a week I'll have an informal meeting with a friend simply because I saw where they'd checked in or they see where I am. Neat!
In terms of adding a venue to Foursquare, there are a couple of ways you can do it, but hopefully you don't need to do anything: as you'll see, if someone is at your restaurant, cafe, place of business, or similar, and they go to check in but don't find the place, they can easily add it. With luck, your restaurant is already in the database. If not, well, I'd talk to your son about that one. 🙂
If you want to add a new venue to Foursquare, the easiest path is to download the application onto your smartphone (iPhone, Blackberry, Android, etc). I have it on my Apple iPhone 3GS, so I'll use that for this demonstration.
Once you start the app, move to the "Places" section by tapping the appropriate spot along the bottom navigational bar: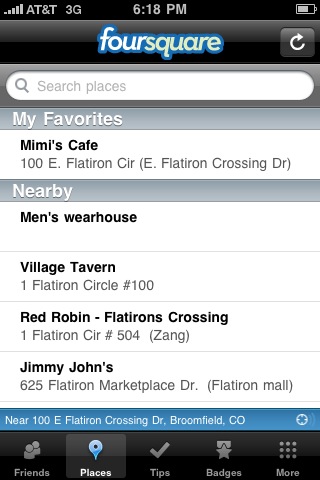 The location I was in had a lot of shops and stores adjacent since it's a shopping mall. None of them are the restaurant I was in, however, so i scrolled down to the very bottom of the places list…
Tap on "Not in list?" and you'll be able to search for the restaurant. Try a shortened version of the name: search results are geographically based, so if there's another restaurant with the same name 150 miles away it won't show up…
I searched for "Golden Wok" and was saddened to see that it wasn't in the database:
At this point you can see the step needed: "Add this place". I tap on that and Foursquare figures out my exact location and uses Google Maps to produce a map of my location:
You can just tap "Add" on the top right, but since you do know the street address, why not enter all that additional information too (including the business phone number, very helpful)? Tap on "Address (Optional)":
Once you've done that, tap on "Save" on the top right and your restaurant, office, cafe, bookstore, tanning salon, beauty parlor, comic book shop, whatever, has been added to the Foursquare database.
One last step, since you're in the game:
With any luck you'll end up "mayor" of your restaurant too, though you might let a customer have the distinction of this award for most check-ins and instead teach your waitstaff that if someone shows you that they're mayor, they get a free appetizer or similar. Why not have some fun? If you do that, make sure you register the special with Foursquare too. Start here:
Foursquare for Businesses
.
If you don't want to download the app to your phone, or you just don't have a smartphone, then you can also add a venue through the
Foursquare Web site
. You'll need to create an account for yourself, then look on the main navigation for "add things":

Click on that and look closely at the screen: it asks you to add a tip (like "the eggrolls are heavenly") but adjacent to it is "add a new venue":
Choose "add a new venue" and…
Easily done from this point and your restaurant is in the database!
Now, while you're adding your venue to Foursquare, why not check out a couple of the other geolocation-based systems that are gaining users? I'd start with
Yelp
then check out
Gowalla
too.
Now about those delicious eggrolls….