Probably like a lot of people, I'm a member of what seems like dozens of social and professional networking sites. Of them, my favorite remains LinkedIn. But I can't add a photo and don't see photos from others. Surely there's a way for me to add a picture to my LinkedIn profile?
If you would have asked me this question even a week ago, I would have answered that no, sorry, there's no way to add a photograph to your LinkedIn profile. But as of the very end of September, 2007, LinkedIn has indeed added a profile photo capability, and you'll need to add a picture to get your "profile completeness" up to 100% too.
To get to the profile photo area, simply click on "My Profile" along the top set of tabs. Now, next to your profile, you'll see: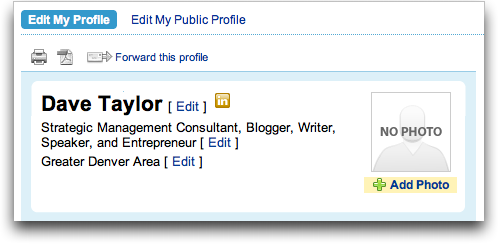 Click on "Add Photo" and you'll see:



Hopefully you have a nice, professional photo of yourself on your computer, somewhere. Click on "Choose File" and find that image. Then click on "Upload Photo":



Once that's done (warning: I kept getting "upload timed out" but then when I tried to reload it, it appeared to work just fine. I assume this is a transient bug as they work out the glitches in the upload process) you'll see:


You can move the yellow box around to resize and reposition the crop: I suggest that you have your face at least reasonably large, unless, well, you want to remain somewhat anonymous. Once you're happy with your specified crop and positioning, click on the "Save Photo" button on the top right and you'll now see that you have a photo in your profile:


Note that you should specify whether you want everyone, your network or just your connections to see your picture. My suggestion? I like "My Network", though I can also see the logic behind Everyone, since it's pretty darn easy for people to find pictures of you online in other venues, most likely.
Anyway, if everything's set the way you like, you can go ahead and leave the profile editor, knowing that your profile now includes a photograph of yourself. Nice new feature, for sure!
Do you want to see how it came out? Then please check out
my LinkedIn profile
.

Random extra info: This picture was taken by my wife while we were on a sunset cruise in Hawaii. A professional shot? Probably not, but it's definitely representative. 🙂

Oh, and a tip of the blog hat to my friend Scott Allen, who
wrote about this topic
first and got it onto my radar in the first place!