I have a nifty wireless wifi speaker setup in my office where we use AirPlay on our Apple devices to send music to the speakers from iPhones, iPads and our Mac computers. Works awesome and it's built around an old Airport Express, but I realized that anyone can find and access the speakers, not just people in my office. Is there a way to password protect the speakers?
Nice setup and as it turns out we have a similar configuration in our offices, powered by the superb audioengine P4 speakers. Even better, the Airport Express we plugged into the system was one that had been sitting on a shelf unused for at least a year. Ya never know when these seemingly obsolete technologies will prove useful, I suppose!
I should point out up front that it's possible you misunderstand how the AirTunes (not AirPlay) system works, however: while it may be hooked up to something like an Airport Express that's also acting as a wifi base station, the fact is that it doesn't mean that anyone on the Internet can figure out and access your speakers. That'd be cool, but that's not how it actually works.
However, anyone who can get on your wifi network — which can, and should, be password protected — can then access the wifi speakers and send whatever audio stream they'd like to be broadcast to your office. A great practical joke opportunity (heavy rainfall sounds, or an emergency broadcast alert, anyone?) but still not a huge risk.
But you asked about adding a password so I'll show ya how to do it. What you'll need is a Mac of some sort that's on the same wifi network as the Airport Express. On that computer, launch "AirPort Utility" from within the Utilities folder. You should then see:

The easiest way to make this change is to click on "Manual Setup" on the bottom, which will show you this:
Note the icons along the top:
You want to click on "Music" (logical, eh?) which will show you the following options: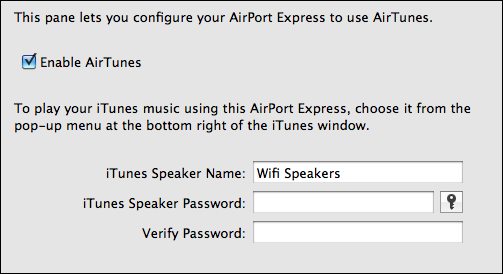 Set the password you'd like to use – twice – and click on "Update". It will confirm you really want to redo the configuration of the device:

Click on "Continue" and it'll push the data to the Airport Express and force a remote restart:
Once it restarts you're done!
Now, when you select those speakers from an AirTunes-friendly device…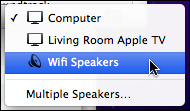 it will actually prompt for a password to be entered:
Hope that helps you out, and if anyone else reading is curious, the AirPort Express (which you can pick up used on eBay for $50-$60) makes a splendid wireless speaker device!