Just joined a new company, moved into a new office and now that I'm bringing my laptop into work I need to be able to hook up to their printer. How do I do that in Mac OS X? They're all PC people here…
If I may quote Mr. T from The A-Team, "I pity the poor fools…" who have to work with PCs in your office. No, just kidding, really, I'm platform agnostic. 🙂
More seriously, it's surprisingly easy in both Window and Mac OS X to add a new printer to the system if you're running the latest version of the respective operating system and you have a modern network-based printer.
Here's how I added a Xerox Phaser 8560N color laser printer when I recently visited a colleague's office.
First step is to go to Apple –> System Preferences and click on "Print & Fax". It looks like this: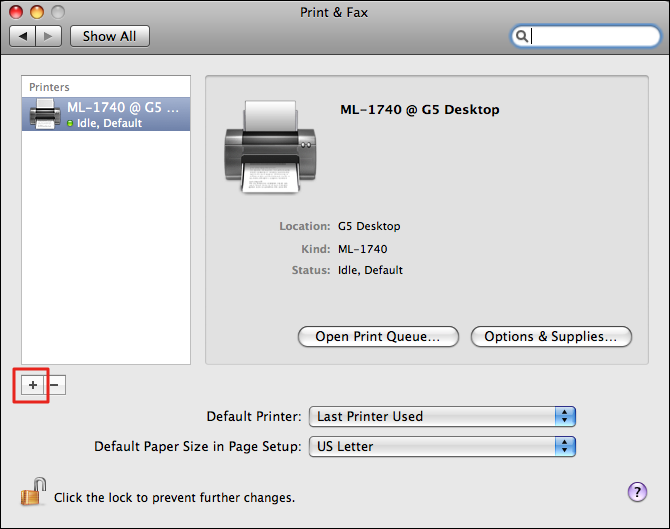 You want to click on the little ~ez_ldquo+ez_rdquo~ symbol on the lower left (I've highlighted it here).
A new window then pops up that should list all the printers your computer can see on the network (wireless or wired):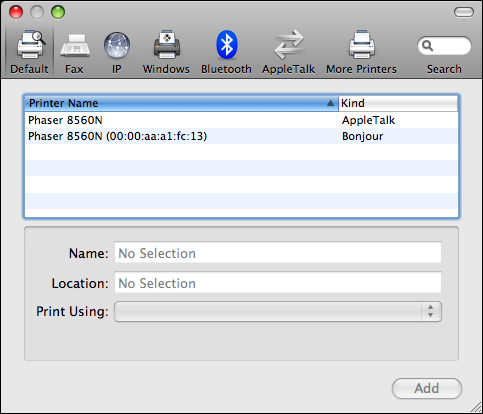 If it's empty, wait a minute or two for it to find the devices, and if it's still empty make sure the printer is turned on and that you're on the correct wireless network or LAN.
Click on the matching printer entry (and if you see both AppleTalk and Bonjour as options, pick one randomly. As far as I can tell, there's no benefit or meaningful difference from a user's perspective).
Now Mac OS X will dig around and look for the matching printer driver, and after either a few seconds (if you have a fast computer) or a minute or two, you'll see this: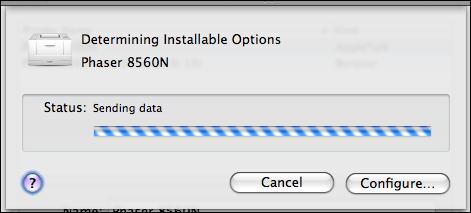 Once it's done with this, the printer driver will automatically be configured to match the installed printer options on this particular device (which makes it
very easy
to add printers!) and you'll have a new printer on the list: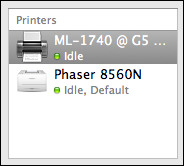 Finally, if you want to keep an earlier printer as your default (so that each time you want to use the office computer you need to explicitly select it), just Control-click on the desired printer:



That should take care of things and you should be happily printing up a storm in your new office. Just remember the little forest of saplings that probably went into producing the paper, okay?