Your timing is very good as I am ready to implement a Lijit widget on my own sites because, frankly, the search engines I have aren't very good. I started out with just a link to the generic Google search engine, then tweaked it to constrain it to just the domain in question (as documented in Add Google search to your site) then ended up implementing a Google Custom Search Engine. I also utilize the Movable Type search system that's included with MT weblog engines, which isn't that good, truth be told.
And so, after some friendly prodding from the company (they're local and friends), Lijit.
The first step in this journey is to go to the site where the signup is on the very first page, smack dab in the middle of the page. It'll look like this:


Easy enough. Click on the button and you'll shortly be taken to a page where you can tie in your bookmarks (del.icio.us, reddit, Stumble Upon, etc)., photo sharing sites (flickr, YouTube), and social networks (LinkedIn, MySpace, Facebook, Twitter, etc). It looks like this: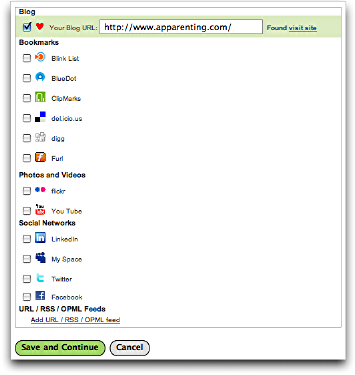 Note: Image slightly edited for space reasons
Since none of my other online presences are related to my parenting site, for this one I'm going to leave everything unchecked and click on "Save and Continue". Note that you can easily add the URL of your friends sites and/or other sites that you think should be lumped in with your own search results here too, a la Google Custom Search.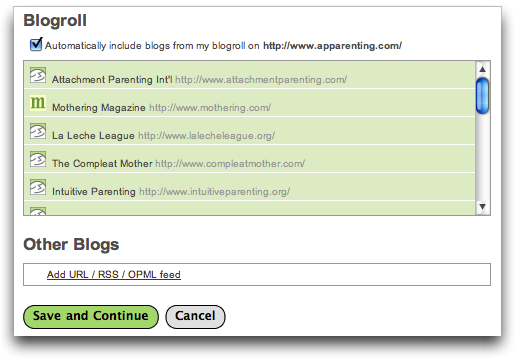 This is cool. They scrape the home page of the site for all the external links (though they call it a "blogroll" it isn't, at least on my site) and give me an easy way to include those that would be useful additional search results for the site. Nice!
Finally it's time to create an account (and much credit to the Lijit team for realizing that asking for individual credentials
after
collecting the basic widget data is a smart move):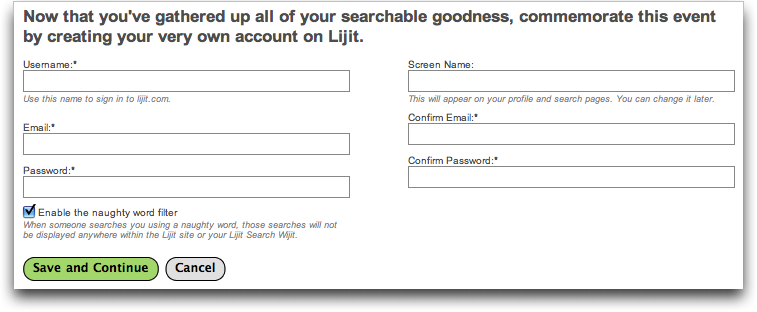 Of special note is the
naughty word filter
: as they say "When someone searches you using a naughty word, those searches will not be displayed anywhere within the Lijit site or your Lijit Search Wijit." My suggestion: choose this option.
Next it'll spin for a while building your search engine (though I think it's just adding you to the user database, but that's another story) then ask you for a picture. Upload one – it's for your account, not the blog search widget – and again click on "Continue".
Now you can have some fun playing with the configuration of your Lijit search widget. I'll step through it piece by piece. First section is:
I'm a minimalist so the first thing I did was uncheck all the optional elements, the content icons, "Add to Google" button, management menu, etc etc. On the right side of this page you can see a preview of the widget as you tweak things. I settled on style "slim rectangle", color "grey" and logo color "grey", chopped off all the other options, and here's the preview, so far: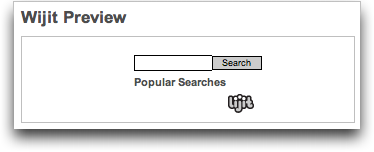 Nice and definitely minimalist!
The next section of the configuration options are more about the behavior of the widget and the resultant search page: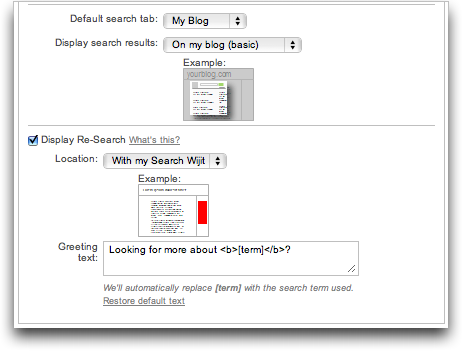 I suggest you leave them exactly as-is until you have a chance to play with your Lijit widget and see how it works on your site.
Finally you have some code to play with! If you're on Typepad or Blogger, there's a one-click install, but if you're a WordPress or Movable Type person (I use the latter) you'll need to grab the code. It looks like this:

Let's unwrap that and have a look:
<script type="text/javascript"
src="http://www.lijit.com/informers/wijits?type=pvs&username=d1taylor&js=1″></script>
<a style='color: #999′ href='http://www.lijit.com' id='lijit_wijit_pvs_link'>Lijit Search</a>
and the code, hot:
Lijit Search
Nice. All that's left at this point is to find the right spot in the parenting blog template in Movable Type, copy and paste in this particular code and republish all the pages. Ten minutes and … done!
Now, your assignment:
Go to my parenting blog.
Search for something, anything. (stumped? Try "pacifier")
Bask in the glory of the Lijit search!
Now, the last part of the assignment is to post a note telling me what you think of the Lijit search. Is it superior to a Google Custom Search? Or is there another smart alternative search widget for bloggers out there?