I've been noticing over time that I have a lot of subscribers to my content on Friendfeed. That's cool, but now that I look at the service, there's a lot it can aggregate, including the items I mark as shared in Google Reader, my RSS reader of choice. What I can't figure out is how to tie the two together!
I concur that Friendfeed is a bit of a sleeper service, it doesn't get lots of visibility, it's not particularly sexy and doesn't have shiny new Web 2.0 capabilities. What it does, however, is make it very easy for you to keep track of the many facets of your friends and colleagues online, which is a good thing.
The trick with Friendfeed is to keep it updated with all of your efforts in the social media space too: if you have a blog that's not tied in, if you haven't linked your Twitter account, or – in your case – are marking articles in Google Reader as shared but haven't hooked that into your Friendfeed account, well, then you're making it harder for your friends, colleagues and fans to know what you're doing and thinking about!
Fortunately, most everything on Friendfeed is easily figured out, though Google Reader is one of the more complex because of how Google exposes the data interface.
Start by logging in to your Friendfeed account, and the mini-profile on your page should look like this:


You want to click on the "add/edit" link and you'll then see:


You can see that I already have my four blogs and two Twitter accounts hooked up, but that Friendfeed supports quite a bit more. 58 different services, actually! Since we're looking for Google Reader, however, notice that it's already shown here, in the "News" category. Click on it…


That's probably where you stalled out. What the heck is it asking for?
Here's the secret: just click on "Google Reader shared items page" and it'll take you to exactly where you want to go:


What you want is the URL behind the link "at this web page". Don't click on it, though. Instead, right-click (or Cltr-click if you're on a Mac):


Choose "Copy Link" and that's what you paste into the Friendfeed URL box:



Click on "Import Google Reader" and after a few seconds of processing, it should show you the few items that you've most recently shared in Google Reader and update your list of services: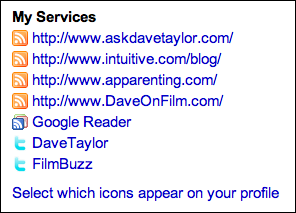 That's all there is to it. Nicely done, and a very nice way to help others see the information you think is most interesting in Google Reader through their following you on Friendfeed.
---
By the way, if you're interested, you can
subscribe to my Friendfeed account
and easily keep track of all my online activities too!