I'm a busy guy, constantly doing twenty things at once. I am also a heavy user of Google Calendar and find it annoying as heck to constantly have to get to the Calendar page before I can add something to my schedule. Is there some neat Mac gizmo I can run so I can click on it, type in my appointment, and be done with it?
This is an example of a "resource discovery problem" (I can use these big fancy phrases because, with apologies to Duck's Breath Mystery Theater, I have a master's degree… in science). Rather than just tell you the name of the neat little application that solves the problem, I thought it would be more useful to show you how I dug around and found it, since this wasn't something I know off the top of my head…
My first step with any Mac software is to go to Versiontracker.com, the best repository of Mac software, shareware and freeware online, in my experience. Once there, I searched for Google Calendar and here were some of the top results:


Of these, the application
TinyTracker
seems like it might be the best match, but I'm intrigued by the
Google Calendar Dashboard Widget
too: if that would allow adding events, it's always nicer to have things behind the scenes (at least for my workflow) rather than taking up some of that precious menubar space or a spot on the Dock.
Clicking on the latter application name brings me to a developer-supplied description of the application:
"Google Calendar on your Dashboard! Keep an eye on today's events on your desktop. With this dashboard widget, you don't need to logon to Google Calendar in a dedicated browser window. Clicking on an event takes you directly to the event in Google Calendar, ready for you to edit."
Doesn't sound like there's any ability to add an event. Too bad.
Before we bail on widgets, however, a quick visit to Apple's Widget download library reveals that there are more Google Calendar widget options, but, sadly, digging into their descriptions reveals that it's popular to write widgets that display calendar events from Google Calendar, but no-one seems to offer the add-new-event feature. Weird, really. Even the much vaunted Google Desktop Gadgets doesn't include one I can find that lets you add events.
Back to the drawing board.
Well, not exactly. Back to TinyCal. The developers description doesn't explicitly show that you can add events, but one of the reviews of the app in VersionTracker states: "TinyCal syncs automatically with Google Calendar, events created with Google are mirrored on TinyCal and vice versa. Extremely nice." which certainly suggests that, yes, you can create Google Calendar events with this little app, so let's download it and see how it works!
Versiontracker makes it easy to download the app. Just look for the download link on the right side: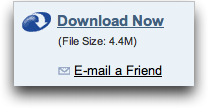 Click on it and it's not a long delay to download a 4MB file (I do
not
miss the days of 9600 baud modems, needless to say!). The download – I timed it – took 9.1 seconds on the wireless network at the café I was visiting. Not bad.
Once downloaded, double-click on
TinyCal
and we find that though it's listed as shareware on VersionTracker, there's a free subset of functionality we could use, though it's the upgraded version that gives us the key capability we seek:


Not a big deal, if it works, $10 is a cheap shareware fee to pay and it's good karma to pay shareware registration fees anyway. You already do that diligently, right? The application offers a 24-hour demo of the upgraded version if you're not entirely sure it's the right app for you: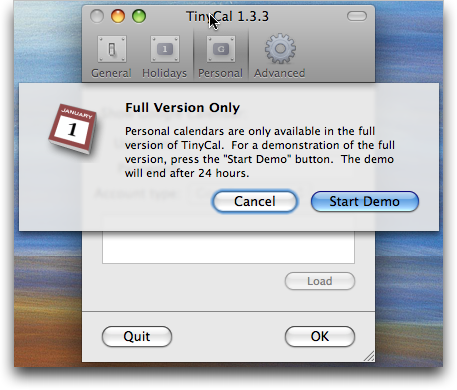 It's not obvious since there's no installation notes, but you want to move the utility into your Applications folder or similar, then probably choose "Launch at Startup" from the preferences pane, just before you click on "Personal", as shown above. Start the Demo, if you'd like, then you can enter your Google Calender credentials and click on "Load", not "OK" (the interface needs a little bit of attention, I think) and now, when you click on the little date box on the menu bar:


Why yes, I do have a scary-busy schedule! 🙂 The most important button on this tiny window is the ~ez_ldquo+ez_rdquo~ icon, which I've highlighted with a red circle. Click on that and:


I added an appointment with my accountant to update my schedule. Then, I went to Google Calendar in my Web browser and… it's there:



There ya go. For $10 shareware fee, I think that
TinyCal
is a winner. I know that I'm glad to have found it.