I've been uploading photos to the Flickr photo service for quite a while and just realized today that while most of my Flickr pals have neat little icons, I have this mundane gray not-even-smiley face icon. How do I upload a picture of myself?
This is one of those areas where I wish I worked at one of these social networking / sharing sites, because then I could run through the database and figure out what percentage of people who use the service actually have a custom icon set. My guess would be less than 10%, but that those are the most active users.
I'm sure that Flickr is no different and I too find that while a lot of people check out my various Flickr streams, few connect (probably they don't realize that you can link to someone you like on Flickr) and even fewer have custom icons.
Nonetheless, it's a worthy goal, so let me show you how I set it up for my own account on the service.
Step zero, of course, is to jump over to Flickr and log in to your account. Then click on the "You" menu:


As you can see, you want to select "Your Profile", which will show your current icon and account information, and, on the far right, offer up three options including the one we want, "Your Buddy Icon":


Choose "Your Buddy Icon" and if you have a handy 48×48 pixel icon ready to roll, you can upload it:


Since I don't have a handy 48×48 pixel image, I need to upload a photo from my computer and use the Flickr tools to resize it for the result I seek. This is done by clicking "On your computer" in the middle column, which reveals:



Click on "Choose File" to find the photograph or graphic you want to use and the filename should show up on the screen, but the image itself isn't yet uploaded!
You need to click on "UPLOAD" to have that happen:



Doesn't take long for the pic to show up and now you can see the Flickr crop and size tool, which is pretty slick (and, of course, you get to see a big big photo of me along the way):


Note the little square on the image in the top left.
Resize and drag the corners around until you have the selection you want, and pay attention to the little preview icon on the top left, which will show you the result of your selection.
You can see that here: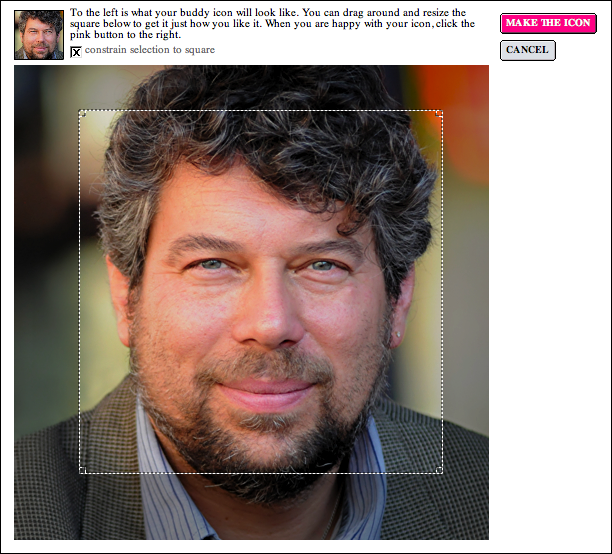 Looks good?
Then click on the pink "MAKE THE ICON" button on the top right and seconds later you'll be told that the task is done and be shown the shiny new icon you've created:


Now when you look at your profile – and anyone else does too – you'll see your custom icon, not the boring grey smiley face:


Hope that helps you get the most out of Flickr!