It's surprisingly easy to set a song file as a custom ringtone, actually, depending on whether you want to get your hands dirty with your Mac or not. Lots of people are reverse engineering how the iPhone uses custom ringtones (for example, this trick from iPhone Atlas) which is very cool, but since it's quite possible that the way the iPhone works with ringtones will change over time as Apple tweaks things, I'm loath to learn a command-line trick when there's a software solution out there that means someone else gets to figure out the tweaks needed each time there's an iTunes update.
Yeah, you can probably accuse me of becoming lazy as I leave my intense hacking days behind me, but uh, whatever. 🙂 When I found out that software distributor Ambrosia had released a $15 iPhone ringtone manager called iToner, which lets me manage the custom ringtones on my iPhone without monkeying about, I was sold. You will be too, after I demonstrate it here, because it's so darn easy to work with…
Start by downloading iToner and launching it (you can use it in demo mode and it'll work fine for dealing with a few custom ringtones, though eventually, as with all shareware, you should eventually pay the registration fee, of course). It'll look like this: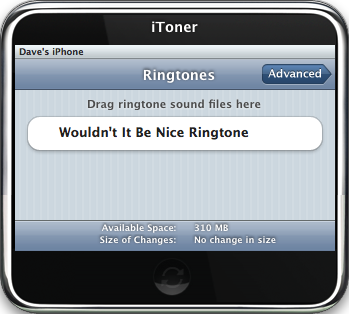 (I've already installed a custom ringtone that I sliced out of the Beach Boys wonderful
Wouldn't It Be Nice
, as you can see. Also, all images in this article are chopped down a bit to make this more readable. The actual user interface to iToner is over twice as tall)
To add a new ringtone to your phone, it's literally as easy as dragging and dropping the AAC or MP3 file onto the main window: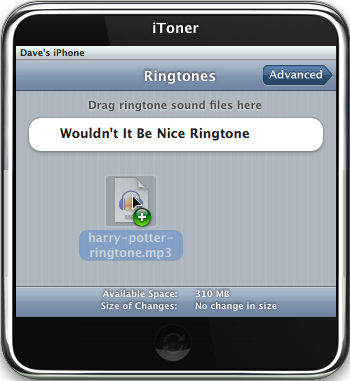 Now you have two ringtones listed, one that's sync'd and one that needs to be sync'd (the latter is denoted by the two-arrow circular icon adjacent to the audio file name):


Click on the little "sync" button on the bottom of the "phone" interface on your computer and it'll either give you an annoying "register this app" message for 30-60 seconds or longer or just directly go to the function, telling you that it's synchronizing:



Once it's done, you'll see that the two ringtones are shown without any sync needed icon: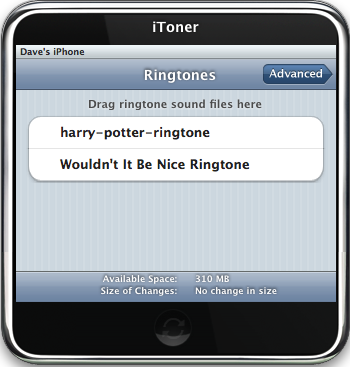 That's all there is to it. To make this your new ringtone for your iPhone, simply go to
Settings
–>
Sounds
and choose "Ringtone" from the second set of options, then select the new ringtone. 🙂

Still trying to figure out all the features of your shiny new Apple iPhone? No worries, I have lots of iPhone help here for you to explore.