I've been selling off lots of furniture and old books through Craigslist, and encountered something I hadn't experienced in the past: a buyer asking if they could pay with their credit card, rather than with cash. At first I was alarmed, but then I realized that might well just be how they budget their money. So can I accept credit cards? I do have a PayPal account…
You nailed it when you mentioned that you also have a PayPal account because it turns out that indeed lets you accept credit cards, even if you don't have what's called a merchant account, and without you even having to tie it to a specific bank account. Very nice! The catch, however, is that it's a bit involved and as far as I can tell, you need to initiate the transaction by requesting payment from the buyer, they can't just "send" you the credit card information. (actually, you don't want their credit card information anyway, so you can avoid liability or accusations of fraud, etc)
It's also hard to tell whether you might need what PayPal calls a "Verified Account", meaning that you can't sign up for an account, run the credit card transaction, request a check, then shut everything down and defraud them. In fact, I'm sure they have safety measures in place to prevent just that sort of mischief, now that I think about it. At best, then, I can demonstrate how it works for my verified account and hope that you can do the same: leaving a comment here after you've tried will definitely help others know how to proceed too.
Start by logging in to your PayPal account and clicking on "Request Money". You'll see the following form to fill out: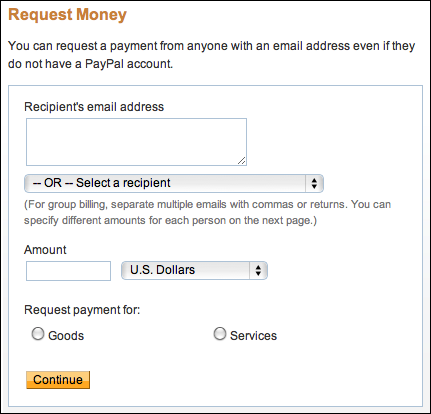 For this demonstration, I'm going to request a $1 payment from myself, tapping the email address associated with my
Dave On Film
film blog (you did know I'm also a film critic, right? If not, you'll definitely want to check it out!). Filling out the form and clicking "Continue" I get this summary:
Looks accurate — and note that you'll need the other person's email address to request money from them in PayPal — so I click on "Request Money".
A few minutes later, the buyer will receive an email similar to the following: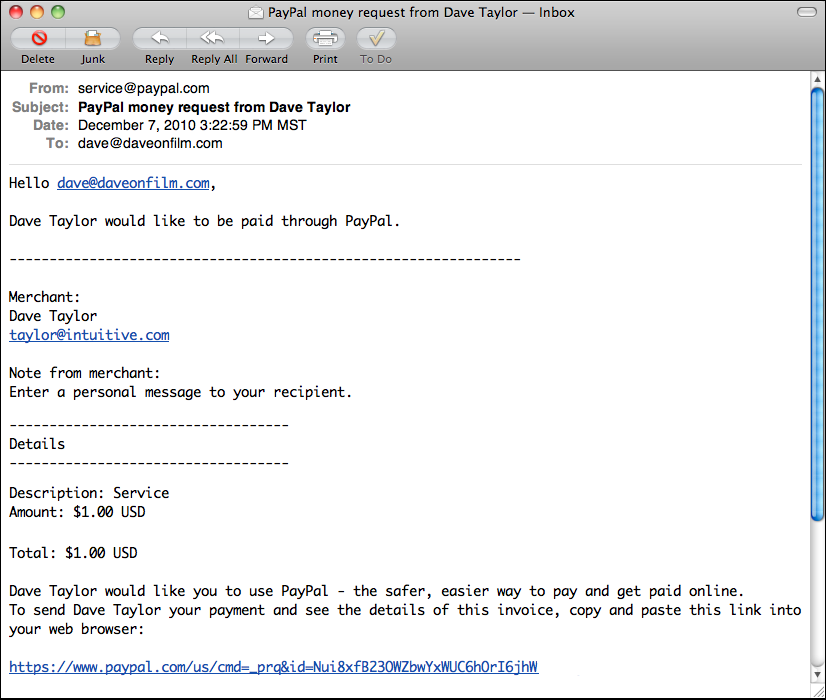 Easy enough, click on the URL near the bottom of the message and they'll find themselves at the PayPal site, being invited to log in to their PayPal account.
At this point if the goal is to complete the transaction with a credit card, they'll need to click on "Continue" (highlighted above) even if they have a PayPal account. If they log in, the balance will be taken out of their account, rather than off the desired credit card.
Time for them to fill in all the information appropriate for a credit card transaction:
Since I have a PayPal account, the site rather bugs me to use that balance instead of my credit card one more time, which I find out after I click on "Review Order and Continue":
No, really, I want to use the credit card, thanks very much. I click on "Continue" again…
Looks good, so click on "Pay Now" to complete the transaction. Done!

Meanwhile, you as the requestor of the money / seller will get an email from PayPal once the transaction is complete, and both the request for payment and actual transaction will show up in your transaction history thusly:
Not the most simple process in the world but, yes, you can indeed accept credit cards through your PayPal account, even if the other person actually has a PayPal balance that they don't want to utilize.