My friend – female, 22 – was telling me that she went to a spot on Google and learned that it thought she was a 30 year old guy based on its profiling of her searches and use of the different Google tools. Creepy. Interesting. How can I find out what Google thinks about me?
Well, I'm not sure that "thinks" is the right word here, I really don't think that Google is evolving into Skynet any time soon (referring to the sentient global computer network from the film The Terminator, of course) but I'll cut you some slack. 🙂 Truth is, Google tracks a lot of our daily activity and between Google Docs, Gmail and Google searches, just to name three, the company can glean a lot of information about each of us.
Before you get too worried, though, I suggest to you that it's a good thing: the more that Google can accurately identify our interests and demographics, the better it can match adverts with the pages we're viewing — like the AdSense ads from Google on this blog page — and the more those ads will be useful and interesting, not annoying and mis-targeted. Something to think about if you believe the company to be benign as I do.
Nonetheless, the gasoline on the fire of Google is advertising and the company definitely tracks a lot of things to try and build accurate models of each of us so it can help advertisers more narrowly target us with specific advertising campaigns. That's why the area on Google that has the info you seek is in its Ad Targeting area.
Let's jump there and see what it has for me. Go to: http://www.google.com/ads/preferences
Here's what I see:


Not unreasonable, though I don't really know how it identified Candy & Sweets as something I'm interested in because I'm pretty sure I don't search for that or anything. Otherwise, yeah, that's definitely a big facet of what I do on the Internet.
A bit lower down is the info you seek:

Hmm… 35-44 years old is a decent guess. Off by a few years, but not much. And male? Yup, that's true.
If you don't like what Google has shown and want to either remove it or edit the results, there are a lot of different edit links available on this page. Click on one and you'll see the options: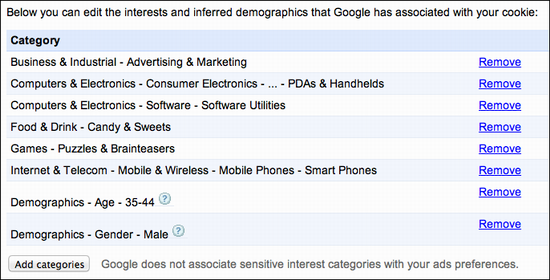 Easy enough to change. Really, really don't like this stuff at all? Scroll down a bit lower on the edit page and you'll find that Google also makes it really easy to just opt out completely:

Now you will have to post a comment here saying what Google thinks you are in terms of gender and age vs your actual age and gender. Hopefully they're not too far off!