Bit offbeat, but I'm wondering if there are any tools or Web sites or services online that can help me ascertain the value of my house? I'm renting a place and the owner has asked if I'd be interested in buying it, but I have no idea what it's worth. Any suggestions?
That is a pretty interesting question, now that you bring it up, and unlike the last hundred years or so of real estate, the last year or two have given us some great alternatives to "call up a Realtor and ask them for a home appraisal".
One of the most interesting of them is Zillow, a site that gives you the ability to view a modified Google Map satellite view of your neighborhood with home values neatly indicated. For example, here's a Zillow view of a randomly chosen street address: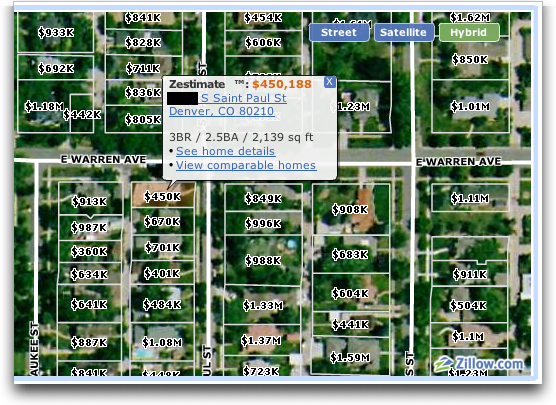 Useful and helpful, and Yahoo's released a real estate appraisal system that's built into it search engine that incorporates Zillow too, and it's even nicer.
To get to it, search for "home values" in Yahoo search. You'll get this:

Go ahead, type in your address and you'll get a nice summary of information, much of which you can find on Zillow itself, including one of my favorite data points, a graph of estimated value over the last one year, five years and ten years: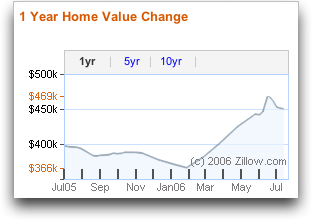 How exactly has Yahoo added value? Well, I'm not sure. The main value at this point appears to be that Zillow is using Google Maps (as far as I can tell) while the Yahoo Real Estate version is built around Yahoo Maps, which offer a more legible view by default.
Having said that, I also have to share that within my own family we have a situation where a relative has what we know is a valuable piece of property, but the one Realtor he talked to gave it what we consider a very low appraisal value. It's tricky, because while there are some great Realtors out there, many are motivated to lowball appraisals so they can turn the property around quickly, and 3% or 6% of a quick 175,000 sale is far better than that same percentage of a 200,000 sale that takes six months and innumerable showings to close.
That why there are professional real estate appraisers too, and if you're not confident with the online data you're getting from Zillow and the like, it can be a smart "second opinion". Further, there's a professional association of real estate appraisers, the
Appraisal Institute
. In addition, states license professional real estate appraisers, so a little bit of work on Google can help you find one if you don't want to go through the Appraisal Institute.
One interesting bit of reading if you're curious how a professional appraiser would try to estimate the market value of your house is the AI's
Property Observation Checklist
[PDF], which offers their basic checklist of criteria to evaluate.
In any case, I expect that this can help you get a sense of the value of your rental property and help you decide whether you should make an offer to purchase it from your landlord. Remember, there are always closing costs, and that you'd do well to research mortgage alternatives before you take the plunge, and also remember that the final arbiter of value is the person or people who are making the offer to purchase. Appraisers might set your house at $145,000, for example, but your landlord might know that if she can sell it to you directly and use legal aid rather than a Realtor (since it'd never be on the market or in the Multiple Listing Service) she can save an easy 5% on the transaction, and might be happy to accept 135,000 or even lower. In a situation like the one you find yourself in, don't be afraid to bid a bit low and see what kind of response you get…
Good luck to you!