Help me settle a bet, please! Is there any way to figure out how many films have used Disneyland in California as a set or location? I know that there have been millions of TV shows (especially on the ABC network, but that's another story) but have no idea how to figure out an actual number. Ideas?
Anything at all to do with movies requires a visit to the terrific Internet Movie Database, also known informally as "IMDB". It's actually owned by Amazon.com, but still has a staggering database of movies and TV shows, actors, and much more.
So let's have a look at the site and see if it can reveal the information you seek.
A regular search isn't going to do what you want, but IMDB also has an advanced search where, partway down the page, you'll see "word search" and find that there are a gazillion different fields you can specify: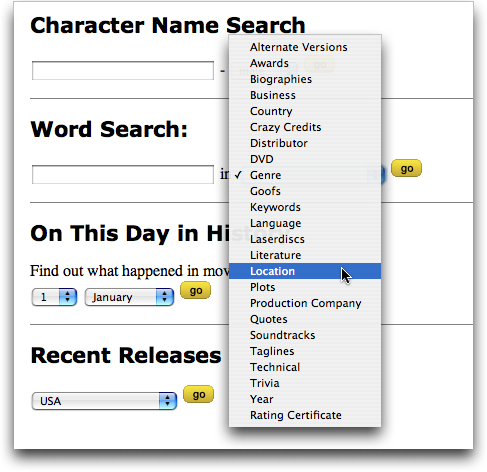 The choice "Location" is what we want, and a search for "Disneyland" reveals: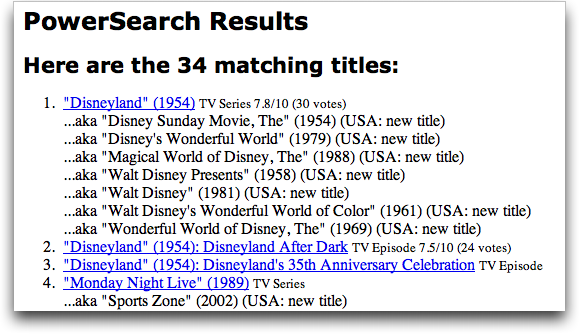 Surprisingly, only 34 matches for Disneyland, most of which are about Disneyland itself, but there are some interesting matches:
40 Pounds of Trouble
,
Hero No. 1
, and
That Thing You Do!
What? Haven't heard of any of them? Neither have I!
A search for "Disney" reveals 114 matches, however, almost all of which are TV series, as you suspect. Examples:
Down and Out in Beverly Hills
,
Dragnet
,
Home Improvement
,
Lost
,
Seaquest DSV
, and
Teen Angel
.
Just for fun, here are how many times other well-known cultural landmarks are found in filming location data: The Statue of Liberty appears 22 times, The Twin Towers show up in 8 movies, London Bridge appears 3 times (whereas Tower Bridge appears 29 times), Casablanca, 30 times, Eiffel Tower appears 25 times, Rome has just under 2000 matches, San Francisco has 1537 matches, New York has over 9500 matches and there are 2374 matches for Hollywood itself.
So now you know! 🙂