Have you bought Google AdWords Video [actually it's called "YouTube Promoted Videos" -dt] before? I'm confused about whether the CPM bid for 1000 "plays" or 1000 "opportunities to play" the video on YouTube? Thx for any help! Their explanations are both automated and opaque.
AdWords is an amazing product in the evolution of advertising, and much of that significance is the ability to get back-end analytics and be able to refine your campaign on an hour-by-hour basis. Prior to AdWords, if you wanted to have a print advert, for example, you'd produce it and send it to the publisher, and they'd drop it into the newspaper or magazine you targeted. Then you'd hope it worked.
Video was worse. Tens of thousands of dollars in production, thousands of dollars in purchasing slot time and then you'd just have to wait and see if the phones rang, the Web site garnered more traffic or the product gained more visibility and buzz. Expensive and incredibly inefficient.
Enter AdWords for Video, aka YouTube Promoted Videos. With so many millions of videos on YouTube, and a strong user-produced keyword system to help with targeting, it's a natural. Add the Google zeal for analytics, and it really is a new world.
If you can figure it out. 🙂
To get an answer, I checked in with my AdWords friend Adam Boettiger of Digital Minimalism, and he explained that the YouTube Promoted Video Ads are bid against "opportunities to see your advertisement", as you suspected.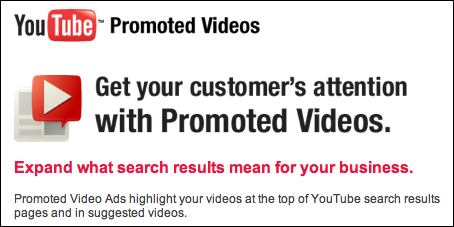 Specifically: "The AdWords display network video CPM bid is NOT plays. It is "lands" on the page that your video is housed on, with no guarantee of ANY plays. A CPC bid guarantees only that the user clicked the Start button on the video and is no guarantee of video plays, only "Starts"."
I suppose that this isn't much different from a CPM bid on a print ad through AdWords, where you're paying for the ad to show up, but have no real control over whether someone sees it or interacts with it.
Still, if you're budgeting a video ad campaign, you should definitely keep it in mind.