Hi, I would to know if recording AND EDITING recordings (cut and recompose audio-video from TV and the Internet) through products like those of EyeTV is technically in reach of the average teacher without in depth knowledge of capturing and editing streaming video, for example. It is an issue for me as I would like to use more existing material on the Internet and TV for teaching purposes, which involves restructuring content.
I have used the ElGato Systems EyeTV system with good success on my Macintosh, actually.
My setup isn't optimized for the best possible quality video, but it was easy to get working: I have the 'cable out' of my Dish Network box hooked up directly to an EyeTV 200, which then connects to my G5 Mac via a Firewire cable. The Dish unit is actually a digital video recorder (think "TiVO"), so it's easy for me to record video programs, movies and TV shows, then stream them to my Mac.
The software on the Mac is called EyeTV and it's a straightforward application that includes a little control window:

As you can see, the rightmost of the four buttons just below the display is a red circle: click on that and you'll be recording whatever video is being streamed to the device.
Once you have a saved video, it can be opened by accessing the EyeTV "Programs" window: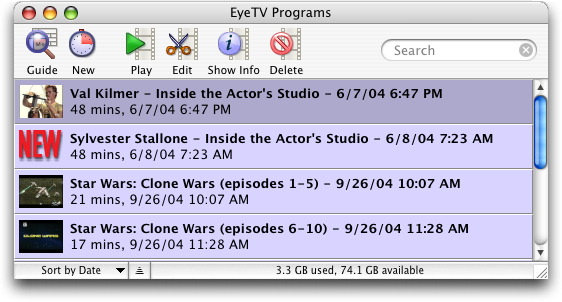 Notice that one of the buttons on the top is "Edit". Click on that and you're able to edit the video stream, at least in somewhat rudimentary ways. You can't reorder clips or segments, but you can definitely chop out advertising, credits, superfluous materials and since you can dupe the file before you edit it, you can also just in effect extract short segments that you can then use in other contexts.
Is it easy enough for a teacher to use? Definitely. Will it do everything you might want in terms of editing, reorganizing and working with the video? Probably not, but it's a good starting point and if your needs are relatively simple, it must just be sufficient.