I'm psyched that after months of waiting, AT&T has finally announced that there's now multimedia messaging service (MMS) available on the iPhone 3G, but, darn it, I hooked up my phone to my computer but it didn't say there was an update. So how do I get there, how do I enable MMS on my Apple iPhone?
You're not the only one who is excited – and perhaps even a bit relieved – that multimedia messaging service (MMS) has finally arrived on the iPhone!
There's a trick to getting things working, though, but it's pretty easy to step through, fortunately, so let me show you exactly how to do it, then demonstrate an MMS iPhone message too!
Step zero is to, um, what? Have an iPhone and AT&T service. Yeah, that's easy.
Now, start out by hooking up your iPhone to your computer running iTunes. Now, on iTunes, click the "Check for Updates" button:

You'll see this:
Now, click on "Download and Update" and you'll see this:

Click "OK" and check out your phone!
Ah, tricked ya. Nothing's actually happened, as far as you can see, because you need to
restart
the phone. Do that by holding down the button on the top edge while also pushing on the home button on the phone. After about 10 seconds you'll see the "slide to power off" option. Do so. Then restart your phone.
Now we're cooking! Check out what happens when you go to send a text message now: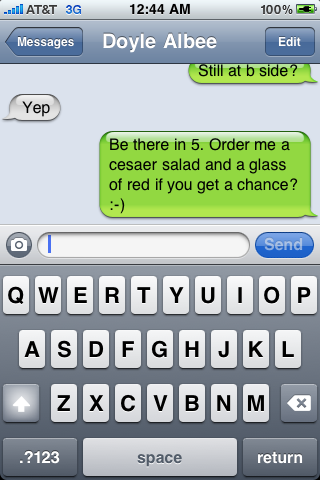 Notice that to the left of the text message input window is a tiny camera icon. Tap on it and you'll see something new appear:
I'll add a photograph to this MMS text message I'm going to send my friend Doyle, so I tap on "Choose Existing" and step through the pics until the one I want: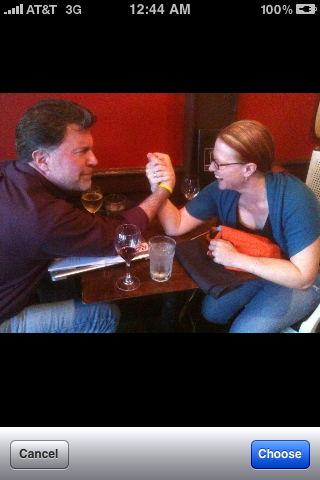 Now when I go back to the text message area, you can see the photo thumbnail is neatly tucked into the message bubble: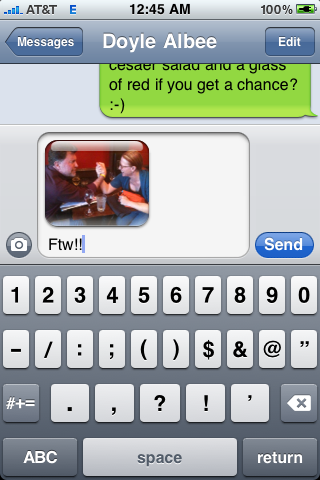 But wait, there's more!
Let's say I want to send a full contact, as an easy way to transfer contact information on a colleague. No worries. This time, you need to start out in "Phone" -> "Contacts", looking at a particular record:
Notice the "Share Contact" button on the bottom. Tap it and:
Choose "MMS" (multimedia message service, recall) and: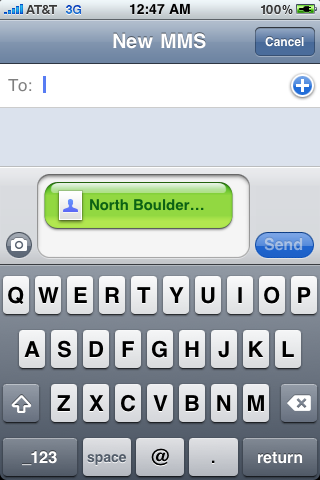 Super cool, and while it's a long time showing up, at least we have it now.
Hope that demystifies how to work with and use MMS on your Apple iPhone 3G!