I'm a big fan of Apple gear, like you are, and while I've been an iPhone owner for quite a while, I've always been pretty leery about paying for the Mobile Me service. Apparently, though, one of the slick new features is the ability to always find your phone if it's otherwise lost, called "Find My iPhone" or "Find My Phone" or something like that? Coolness. Can you show how it works?
I'm still on the fence about Apple's rather pricey Mobile Me service because I'm not a pure Apple software user. For example, I don't use Apple Mail and I only really have one foot in the iCal world (my main calendar is still on Google Calendar and I sync via WebDAV). On the other hand, having the Contacts / Address Book magically be in sync between my computer and iPhone is pretty darn cool. But is it worth $99/year? Dunno yet.
On the other hand, the first time I lose my phone and can use "Find My iPhone" to recover it, I have a feeling that the service will pay for itself, and then some.
It requires that you have an iPhone, that you've configured it to report its locations, and that it's turned on when you look. To ensure your phone is set up properly, tap on "Settings" then choose "Mail, Contacts, Calendar". If you haven't yet added your Mobile Me account, choose "Add Account…" and then you'll see:

Tap on, surprise, the huge Mobile Me logo and enter the appropriate data. Here's how mine looked: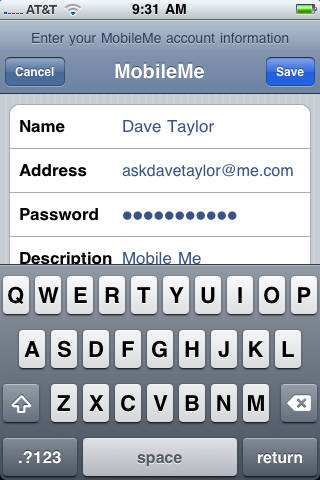 Once saved, you'll see the Mobile Me configuration settings: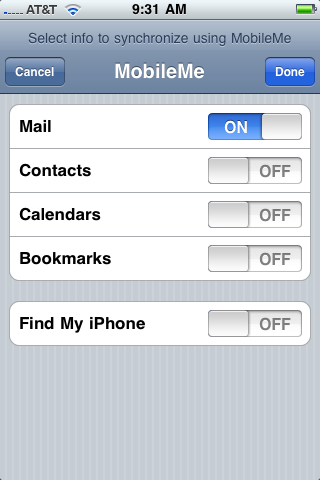 The key one for "Find my iPhone" is ingeniously labeled "Find My iPhone". Make sure it's enabled, which will cause you to be informed: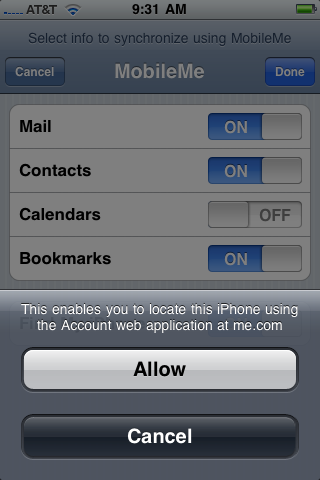 Okay, 'nuf on the phone. You only have to set that up once, fortunately.
Now you'll want to go to your computer Web browser and go to
me.com
. You'll need to log in:
Once you're logged in, you'll see an icon strip on the top left corner:

Click on the Settings icon (the rightmost one) and you'll see a lot of config options on the left side: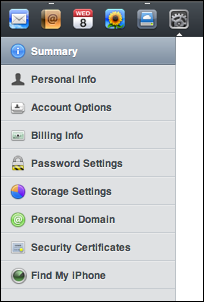 Click on "Find My iPhone" on the bottom and it'll start searching for the device:
Sometimes, you're out of luck:

On the other hand, when it does work, then it's pretty darn cool: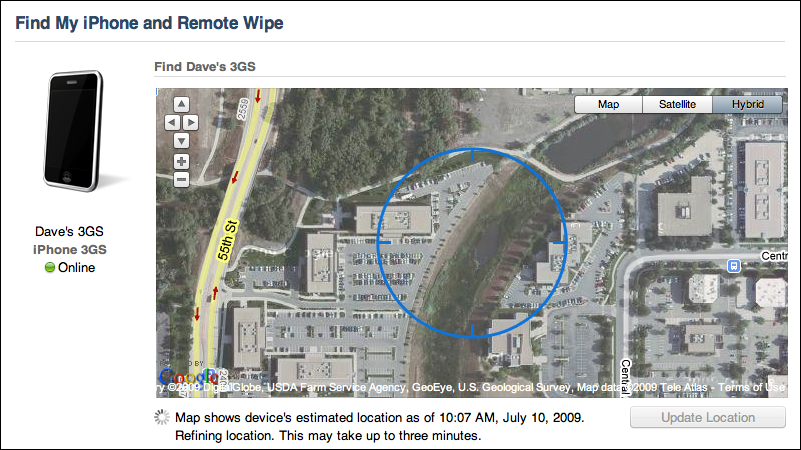 So that's what it looks like. If I had more courage, I'd let my kids take my phone, then use "Find My iPhone" to track 'em. Except if they lost it…