I've been working with hotmail for a long time and all my pals have my Hotmail address, so I am not interested in leaving for another web-based email service. I am, however, interested in learning how to organize my huge mailbox a bit better, and was hoping you could explain how to create and use a folder?
If you can look beyond the advertising all over the page, Hotmail is a reasonably reliable web-based email solution, and certainly one that's been around since even before the dot-com boom of the late 1990s. It's ancient in Web terms!
The interface isn't the most sophisticated, but it's still serviceable. To create a new folder, look on the left side of your Hotmail account window and notice that under all the folder names is "Manage Folders":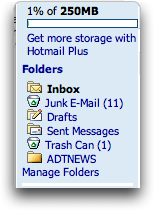 Click on that, and you'll go to a screen with a nice overview of your existing mailboxes and folders, but it'll also include the all-important set of buttons on the top graphical element:



Click on "new" and you'll be asked for the name of your new folder:



Type in the desired name, click "OK" and you've now got a folder set up in your Hotmail account. I created a test folder called "Test Folder", ingeniously enough.
It's pretty easy!
Now whenever you read a message and want to save it in the new folder, simply choose the message or messages, then click on "Put in Folder", which shows you a list of possible folders, including the new one you've created: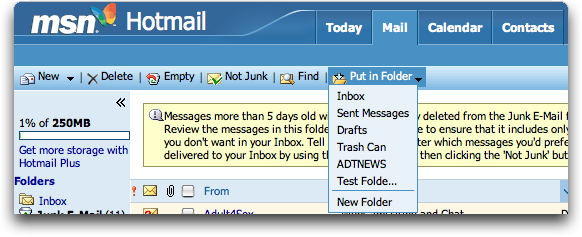 I hope that'll get you going with Hotmail folders. And stay tuned – rumor has it that the next generation of the Hotmail web interface is going to be quite an improvement!