I love Facebook but am careful to only post material that's work friendly. Last weekend I was at a party and a friend took some pictures that aren't exactly flattering. And then tagged me in them on Facebook. Not good! So how do I untag the photos before anyone in my company sees them?
You're not the first person who has encountered this situation on Facebook. In fact, I was recently talking to a group about embarrassing and inappropriate Facebook photos and one of the people present related to me a story about how his company were interviewing a woman for a position in the firm and one of the HR people searched her name on Facebook. What did they find? Pics of the woman pole dancing. Yikes. That wasn't the reason she ended up not being offered the job, but I bet it was a factor.
Suffice to say, knowing how to untag photos and other content on Facebook is pretty essential!
Better is to actually set up your Facebook account so that every tagged photo or posting has to be explicitly approved before your tag actually shows up. I'll show you that in another post, but for now, let's see how to untag yourself in a picture on the site.
To demonstrate, my friend Karyn tagged me in the following photo: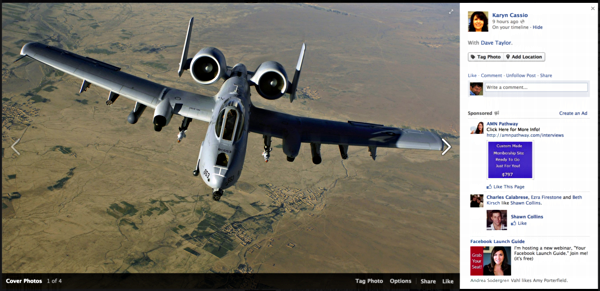 If you look closely, you'll see it says "With Dave Taylor" on the side. Wait, here's a close up of that area to the right of the photograph: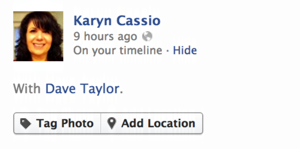 That's not where you can remove your tag, however. To do that, you need to look on the lower right edge of the photo itself. Here, let's look at it more closely:

You might think that there'd be an option on "Tag Photo" but in fact you need to click on "Options" to find the untag feature: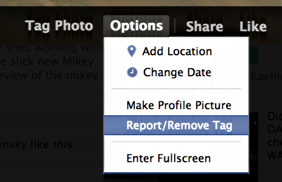 As you might suspect, click on "Report/Remove Tag" here, since I'm totally sure you do not want to make the inappropriate image your profile picture! 🙂
A window pops up and gives you a few choices: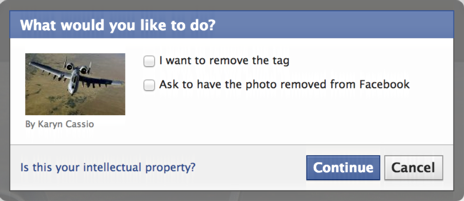 You can certainly request that the photo be removed from Facebook entirely, but my guess is that it's not a likely outcome, and certainly not quickly enough to ensure that none of your colleagues could see it in the meantime.
Instead, just click on "I want to remove the tag" (it doesn't say so explicitly, but it should really say "I want the tag of my Facebook account removed", which would make more sense. In any case, check the box, click "Continue" and…

Done. That's it. If you go and reexamine the photograph, you'll find that you are no longer tagged. Problem solved. Now about those parties…