A friend who also has an Apple iPad told me that there's a software / firmware update to the iPad, but when I go to the App Store on my iPad and check for updates, I don't see it's available. How do I update my iPad's operating system firmware?
That's an interesting question because you highlight something that can be a bit tricky for iPad owners if they don't frequently connect their iPad to a computer: the only way you can update the iPad firmware is to hook it up to your computer and actually let your computer do the work.
The "App Store" on the iPad updates applications on the device, but cannot update the device itself. You're right that if you're running, say, 3.2 and want to update to iPad operating system 3.2.1, you're stuck if you don't hook it up and sync it with a Mac or PC.
I've had mine a while so I'm not 100% sure, but I don't think you can proceed very far with an iPad initially without hooking it up to a computer, so probably you already have a Windows machine or Mac OS X system that is the "master" system. Yes?
If so, here's how things should proceed with an iPad firmware update…
First off, to see what version of the iPad system you're running, on the Apple iPad, tap on Settings -> General -> About. You'll see all sorts of useful information: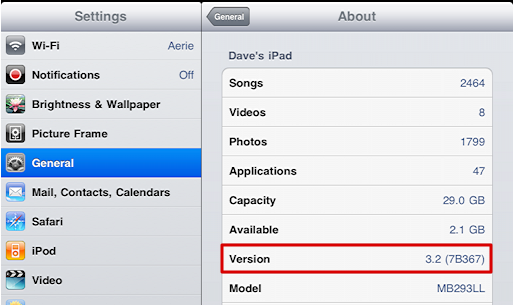 As you can see, I start out this update process with iPad system version 3.2.
When I hook up my iPad to my MacBook Pro and pop into iTunes, the system already knows that there's an update available and lets me know:



I choose "Download and Install" and find out that, uh oh, there's some stuff on the iPad that I haven't copied onto my computer. It shouldn't matter since a firmware update doesn't wipe the iPad clean, but let's assume that the Apple folk know what they're talking about and back up my purchased apps.



To back up my purchases I'm going to share with you a little iTunes secret: You can Ctrl-Click on your iPad entry in iTunes and find that there are some interesting menu items that aren't part of the usual interaction (this holds true for iPhones and iPods too, btw!):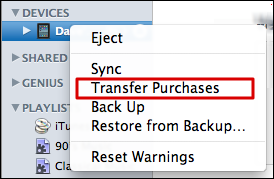 Chose "Transfer Purchases" and after a moment or two you're left kinda back where we started:



Click on "Update" and now we can proceed…



iOS 3.2.1 sounds good. Click on "Update" and then check out what Apple's sharing with us in terms of what's in this particular update: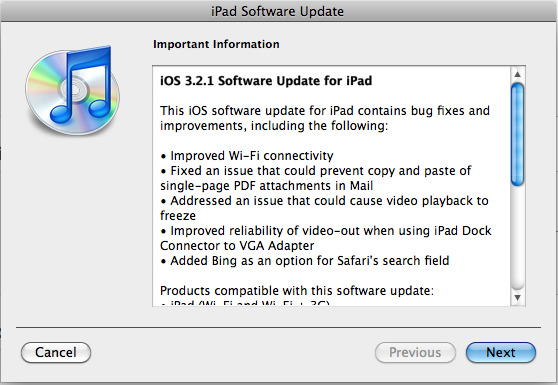 It's all good, Mr. Jobs. 🙂 Click on "Next" and…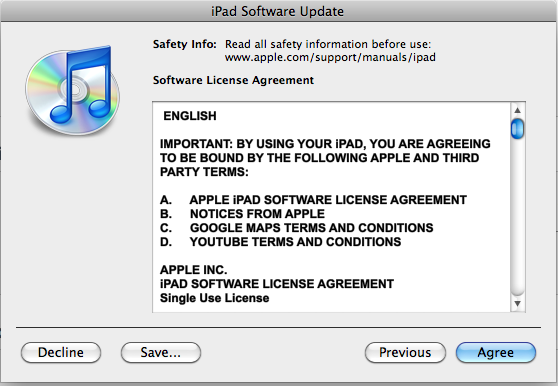 Ummm… err… yeah, okay. Click on "Next" again.



Meanwhile, in the iTunes window you can see that things are indeed progressing, though it took me about five minutes to download this iOS firmware update:



Once it's downloaded, you see it unpack:



Verify it's correct (through what's called a checksum algorithm. Google it if you're curious, it's pretty slick stuff)



Now it's time for iTunes to take over control of the iPad:


Transfer the new firmware onto the iPad:


Make sure nothing got messed up along the way:



And actually install the new firmware on your iPad:


Finally, it's done. Time to reboot the iPad:



That's all there is to it. Lots of steps, but really, it's pretty darn easy. Oh, and when you're done, go back to Settings -> General -> About and you should find that you now have the newer firmware: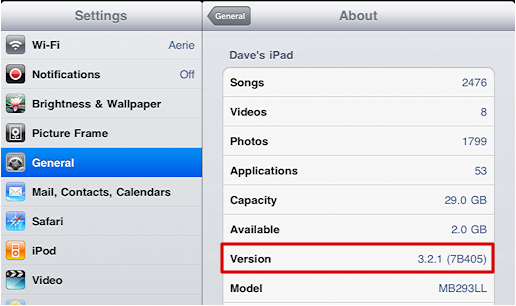 That's everything. Good luck with the update, and thanks for keeping things up-to-date, Apple. Now about that iPhone 4…