Hi! I try to go online on my Sony PSP but it will not let me. It says that my wlan switch is off. How do I turn it on?
This is a really common question, so common that I've actually taken a photograph of my own Sony PSP to show exactly what you need to do!
On the lower left edge of your PSP when you're facing the screen, there's a small silver slider switch: that's your WLAN switch. Slide it upwards: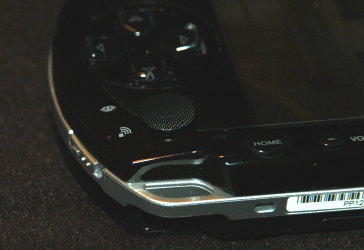 Can you see it there in the photo? Mine's already up in the WLAN on position.
I leave mine on all the time, though it's possible that I'd get slightly better battery life if I left it off except for when I wanted to access either an ad hoc game or the Internet. Dunno, haven't tested it out.
Anyway, flip that switch up and the little orange light just above it should sporadically pop on for a second or so, and if you scan for a local network connection, it light up quite a bit!
Hope that helps you get up and online!