I've finally gotten an iPhone 4s and am, of course, excited to play with Siri. It thinks my name is Susie, however, which is really weird. From what I can tell, that's one of the contacts in my address book on the iphone, but why does it think that's me, and how do I fix it?
Apparently you haven't read the small print associated with the slick Siri voice interface system: you are now legally bound to actually change your name to Susie so that you match Siri's view of the world. No worries, your current name becomes your nickname so you can still answer to it, but you'll need to change your drivers license, passport, credit cards, etc.
No. Kidding.
I had the same problem when I started with Siri on my iPhone 4s too, and in my case it was because the name associated with my iCloud account had gotten messed up and my friend Peter had his name associated with it (though it was still my email address. Weird)
Unfortunately, Siri won't let you tell it you're someone else. Then again, that's probably good, especially with my kids: "My name is mud!"
First off, a slightly existential question: who am I?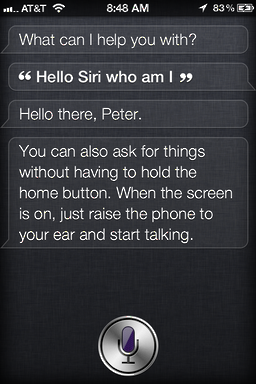 Well that's not right! I'm not "Peter". I'll see if I can fix it by checking the time (just to verify it's all working properly) then saying "my name is Dave Taylor":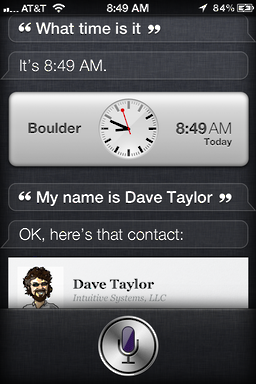 It recognizes my name, that's good, but doesn't know that it's
me
.
To fix the problem we need to actually go into
Settings
…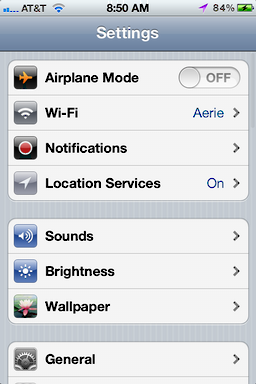 Tap on "General".


There we go. Right in the middle, "Siri". Tap on it.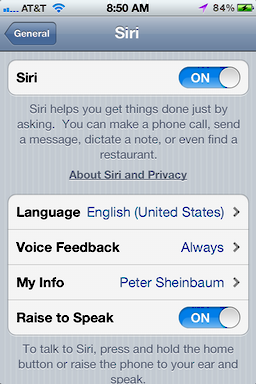 Turns out you can disable Siri if you're so inclined, but what we're trying to fix is the mistaken identity so tap on "My Info" instead…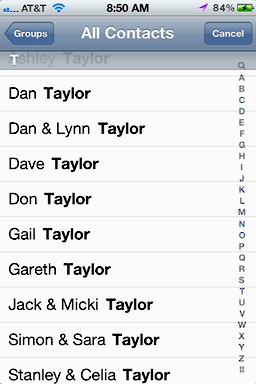 Now you'll want to scroll down and find your own address book contact. I'm right in the middle of the rather large wave of Taylors in my phone directory, so I simply tap on my name.
Now "My Info" is finally correct:


To test it, I'll ask Siri who I am again:


Phew. A huge psychic weight off my shoulders. Siri knows who I am.
Fixed.