I really want a Gmail account from Google but can't find anyone that has an invitation! So I'm looking at the Gmail home page and notice that it indicates I can sign up by just having a mobile phone. Well, I have one of those, so I'm hoping you can tell me how to get a Gmail account through my cellphone?
The common way to get an account on Google's popular Gmail system is to find someone who has an invitation, of course, but that sometimes doesn't work. Indeed, I sometimes find myself out of invitations too, even though I've invited well over 750 people to join the Gmail system at this juncture…
Luckily, if you have a cell phone that has Simple Message Service (SMS) capabilities, which is just about every phone sold in the last two years, you should be able to use it to sign up for a new Gmail account.
Start out by going to the Google Gmail Home Page and clicking on the signup link: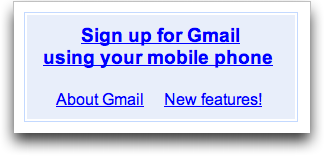 It's fairly straightforward from here. Enter your cellphone number and the "captcha" verification text: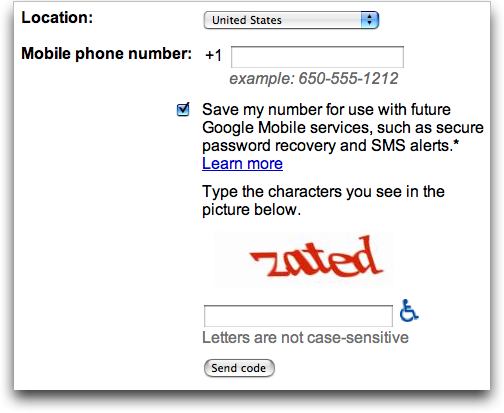 Enter the information required and click on "Send code". Your Web browser on your computer will then pop onto a screen that lets you enter the code…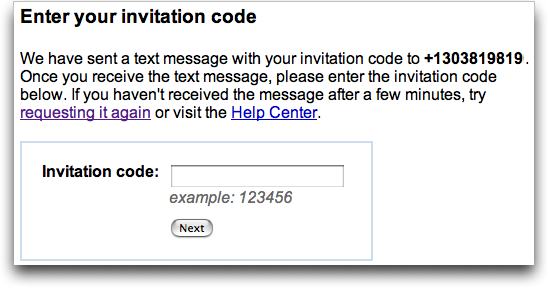 More importantly, your phone should indicate that you have a new SMS message. Here's how my Motorola RAZR V3c shows me: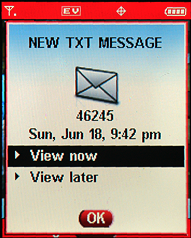 And here's the message:
You can probably figure out the next step, but just in case you've never seen the Gmail signup form, you enter the code from the phone, press "Next", and you're in! Here are all the fields you need to fill out to request an account at this point: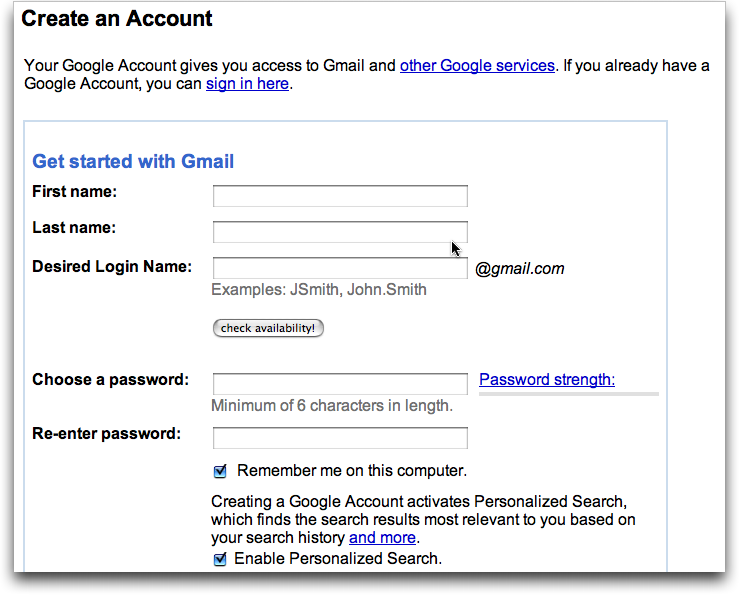 It's worth spending some time here coming up with a password that has good "strength" too: a stronger password is one that's harder to crack or break into.
Part two of the form also has a critically important section: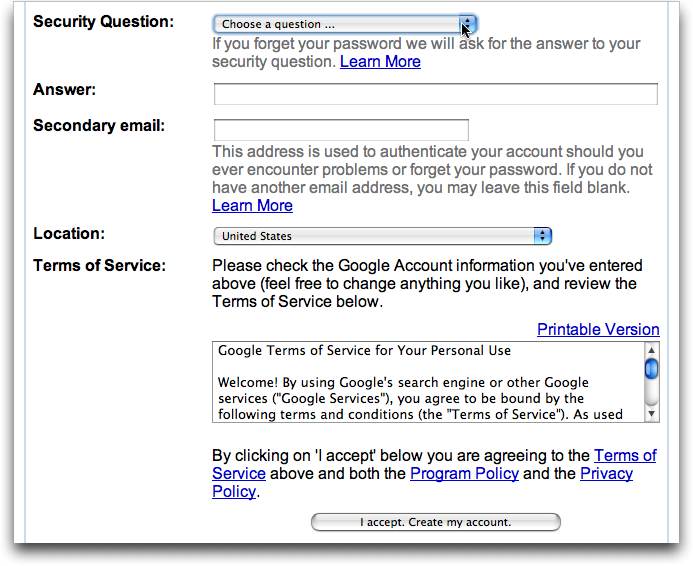 Be thoughtful picking a security question! Too many people do the most rudimentary security question, like "In what city were you born?" forgetting that just about everyone who knows them also knows that snippet of information. The result: lots of people have their accounts cracked (especially on Yahoo mail and AOL) by the evildoers pretending they're you and pretending they've forgotten their password…
Unlike most of the simple security questions you'll find on other services, Google has less well known information snippets as choices:
What is your primary frequent flier number?
What is your library card number?
What was your first phone number?
What was your first teacher's name?
Write my own question
That last option is a real winner too: think of a snippet of information that you always think about but that no-one else in the world knows, and write a cryptic question about it, so you can use that Q&A as your security question.
Truly, a few minutes to pick a secure password and use an impossible-to-guess security question will pay back superb rewards down the road when you can rest assured that no-one can break into your new Gmail account.
Finally, when you've filled everything in and picked a Gmail "handle" or account name that you like and that's available, click "I accept. Create my account" and you're in!
Congratulations!
Note, by the way, that if your phone doesn't accept SMS, but you have a friend whose phone does, you can use that to set up an account too: Google doesn't automatically assume that it's your phone.