I've been getting into Netflix, but am finding that having my wife also log in occasionally and both rate her favorite movies and add new films to our shared queue is really messing up the recommendation system. But the recommendations are one reason we signed up in the first place. Is there some solution?
There is a solution with Netflix, actually, and it's one of the many ways that Netflix continues to remain number one: you can create a new profile for your wife and then have multiple 'virtual' accounts under your one agreement. Let me show you how to do it, then you'll see its value.
Start by logging in to your Netflix account, then look on the top right and you'll see this:



You'll want to click on the
My Account
link, at which point you can make a lot of changes to your account (logically enough), most notably including the following section: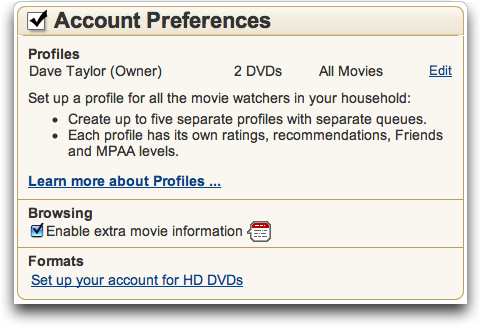 To actually set up a new profile you need to click on "Learn more about Profiles" (a link I find a bit confusing. Why doesn't it say "Set up a new profile" or similar?)
Now you'll get a bit of a blurb about how wonderful profiles are: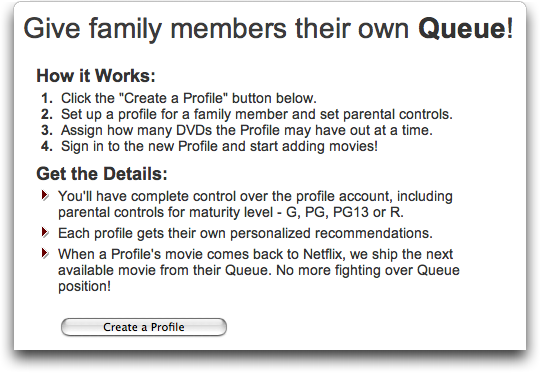 Enough of that. Click
Create a Profile
and now your wife can have her own account: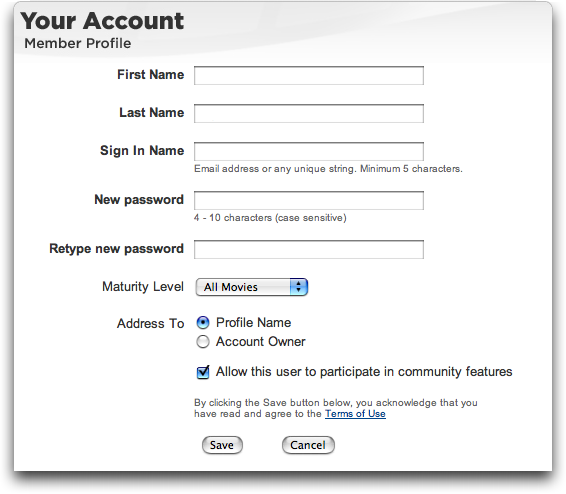 Worthy of note is that if you want to set up accounts for your kids, you can limit what films they can add to their queue too. The choices are All Movies, R, PG-13, Unrated Family, PG and G. Not only that, notice that community features option too. With that, you can limit new members from creating reviewer profiles and writing movie reviews.
Almost done now. Fill everything in exactly as you want, then click on
Save
, then you'll be able to determine how you split out your rental queue inventory: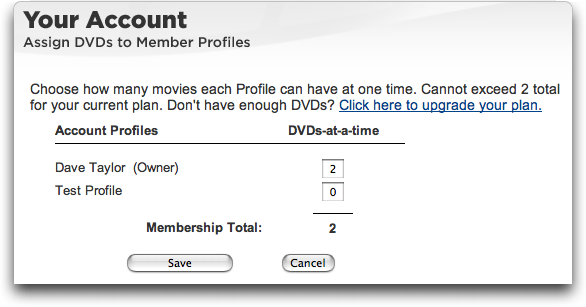 You can, of course, adjust this as you desire, letting your wife have a bigger "mini queue" than you, or vice versa. Adjust this as you'd like, then simply click on
Save
again and you're done!
Now, to switch between accounts, uh, profiles, simply click on the tiny little triangle next to your name on the top right of all the Netflix pages and you'll find that there's now a tiny pulldown menu that lists other profiles:



That should get you and your wife in separate queue, alleviate any marital tension and help your recommendations list too, all in one fell swoop!