How can I remove a person from favorites but keep him in contact list (he's just a contact, not a favorite) on my iPhone?
Here's the good news: your Favorites list exists independently of the address book on your iPhone, so the short answer is that if you want to remove people from your Favorites list, just go for it.
However, let's spend a few minutes looking at how to add someone to the Favorites list and how to work with it, because on my iPhone at least, it takes a huge, complicated list (my Address Book has almost 500 entries) and makes it lightening fast to contact my closest friends and family.
I'll start by showing you how to add someone to your Favorites list, then we'll remove that entry, okay?
In the Phone app, Contacts tab, here's what I see when I'm looking at an entry on my iPhone: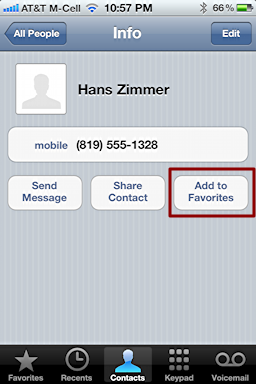 I like Hans, so I'll add him to the Favorites list by tapping on the "Add to Favorites" button, as highlighted above. The button vanishes. In fact, if you look at a contact and there's no "Add to Favorites" button it means that they're already on your list (or, possibly, that you have an email address but no phone number).
Now when I look at Favorites, I'll tap the "Edit" button on the top left and here's what's shown: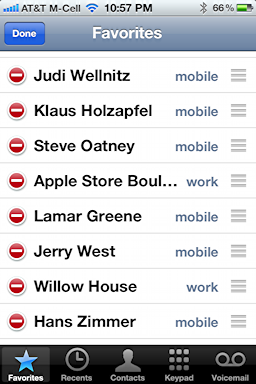 To move Hans Zimmer up on the Favorites list, I'll tap and drag on the three horizontal lines button to the right of his name, up to where I want to put the name: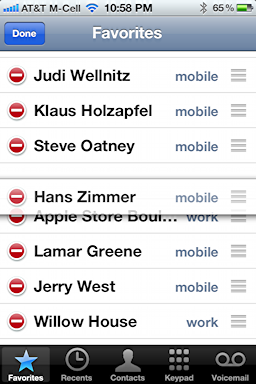 While I'm at it now, let's remove another entry on the list, Jerry West. I like Jerry, but we don't talk on the phone frequently enough that I want him on my Favorites list. To delete him from the Favorites list — but not remove his contact! — I tap on the red circle with the small white vertical line:
I changed my mind, and by tapping again on the red circle, the "Delete" button vanishes. Instead, I'll remove Hans after all because, well, I don't want to surprise him by calling during a dinner party or him scoring his next film or anything.
I again tap the red circle, then the red "Delete" button and he vanishes from the Favorites list. I'm done, so a tap on "Done" on the top left wraps up the editing, and my Favorites list is organized and set up as desired: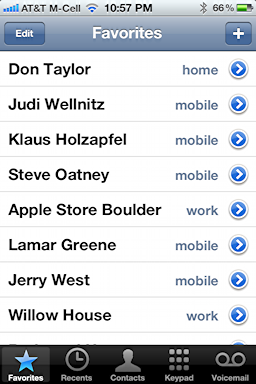 Hope these illustrations and this explanation help you out managing your Favorites list.