I think my Apple iPhone was stolen, but I suppose it's possible I just forgot it somewhere. Problem is, I have lots of personal information on the phone and have skipped the hassle of having an access code in the interest of answering phone calls more quickly. Now I want to use the remote-lock capability to send the lock request to the phone, just in case someone does find it and starts playing. How can I easily do that?
First off, let me clear up a misconception: having a lock code on your iPhone 4, iPhone 3GS, whatever, does not mean that you have to enter that code when a call comes in for you. That shows up with an 'answer' button just like any other incoming call would, so that's not a valid reason to skip the security code.
Second, and this is critical: you need to have installed and configured Find My iPhone [iTunes link] on your iPhone for you to have the ability to find it afterwards (which would be darn useful in your situation) or send that remote locking code. Not sure how to set that up? Check out my earlier article on How to Use Find My iPhone on your iPad for details.
I'm now going to assume that you do have Find My iPhone installed and configured, and that you've gone through the steps I show in the other article to have Mobile Me show you the last known location of your iPhone. Note that you can also access it by logging in to your Mobile Me account at me.com…
In Find My iPhone, you'll see the phone shown on a map or on a blank background if it cannot be located. Hopefully it's a map and looks like this:


Tap on the little script "i" next to the phone name on the map display, and a window of options appears: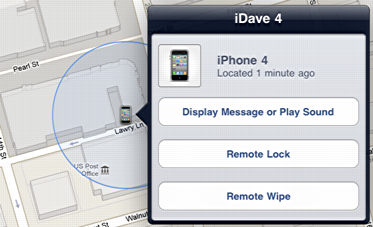 We'll tap on "Remote Lock" to send a remote locking sequence to the phone. It prompts you for a lock code:


You'll actually enter that twice. Remember it, or you'll be doing a full Restore on your phone once you find it again!
After a moment or two, you'll see this:


Simultaneously, the iPhone locks up, even if it's in the middle of running an app or otherwise in use. On the iPhone, it'll suddenly look like this: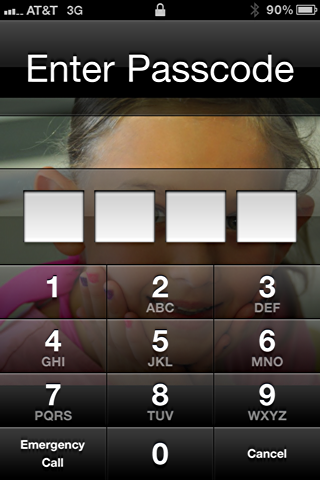 Your phone is now locked and cannot be accessed (other than for incoming calls) without the four digit security code.
Oh, and to confirm that the lock sequence was sent successfully, Mobile Me actually emails you a note too:


Good luck with that phone recovery!