You mentioned that Google Reader was the only reader that you use. The R.S.S. reader I've used, FeedDemon has been annoying me with frames that I don't want, and stories I've deleted coming back. I've just started using Google Reader because you mentioned, so I thought I give it a try. However, not to say I'm completely clueless, but I can't figure out how to delete a story from Google Reader when I'm done reading it.
Hmmm…. well…. in my experience with Google Reader, the challenge is to not mark a story as read once you've had it displayed on your screen, actually, so maybe the issue is with how you're stepping through articles? I step through the articles one by one by using the j key to go to the next article and p key to pop back to the previous, as necessary. As far as I can tell, "j" not only moves to the next article but also marks it as read.
You should see that feedback as the unread article counter on the top decreases by one and the list of new articles on the left changes too.
One thing I have found can be an issue is the "focus" of the screen. Make sure you click on a (non-hyperlinked) spot in the topmost article before you start typing "j" like a madman: when I forget to do that, it does have weird behaviors depending on what area of the screen is receiving that keystroke information.
But maybe it's a setting you've made, so let's review my own Google Reader settings. Click on "Settings" in the top right corner, then "Preferences":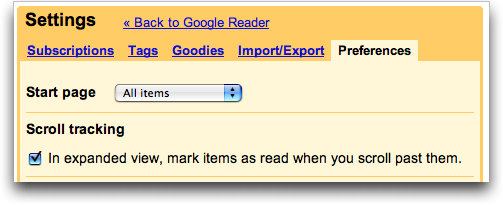 Ahhh… there's what might be the culprit. Do you have "Scroll tracking" enabled?
Otherwise, I'm a bit of a loss why you're having this challenge. I am finding Google Reader a splendid application (with the exception of its Mobile version completely doesn't work -or even render any text at all – on my Blackberry Pearl).