My parents switched my MySpace profile to be private so that my friends can't find me online, and it's really driving me crazy! Please, tell me, how do i make my myspace page public again?
I won't start by telling you that you shouldn't go against your parents wishes, even though I'm thinking it. Would it be so hard to talk to your folks rather than just make the change to your account?
If you did want to do it yourself, here's how you can either make your account private or make it public after it's already been switched to private. Actually, truth be told, there are a ton of settings you can tweak.
First step, as usual, is to log in to your MySpace account, then click on Account Settings. There are a bunch of different settings you can tweak, but the one you're asking about is called Privacy Settings and it'll look like this:


Click on that and you'll see: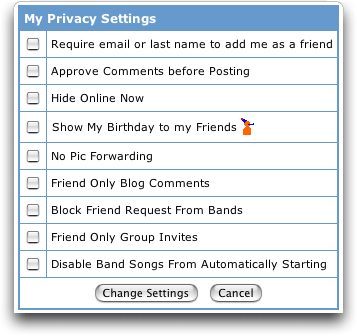 Lots of choices, but I'll bet just about all of them are checked on your account, somehow. I'd especially pay attention to the first option, which MySpace describes as "Check "Require email or last name to add me as a friend" if you want other users to be required to know your email address or your last name in order to send you an add friend request (this prevents people who don't know you from trying to add you as a friend)."
Hope that helps you get your account back as you want. But remember, you might find it worthwhile to talk to your folks before you do this…
Good luck to you!