I really like my Kindle Fire and have found that I'm reading more now that it's so easy to carry even the longest book with me. Some of the books I read are okay, but there's an occasional ebook that's just terrific. When that happens, I'd like to loan it to my Dad so he can sample it and either read it — he's a quick reader — or buy it for himself. I remember reading that one of the features of the Kindle is that you can loan people ebooks, but I have no idea how to do it. Can you explain?
While there's a lot to love about the Kindle, both the hardware and software, there are definitely edges of the ebook service that are a bit rough around the edges, and the ability to loan someone a copy of your ebook seems to be one of those. In fact, as far as I can tell, you can't loan anyone an ebook from your Kindle device at all. Instead, you need to log in to the Amazon.com Web site and use their Web interface to loan the title.
Also important to note is that the publisher decides whether a given ebook title is going to be available to loan out or not: most that I have read seem to not have that capability enabled. Finally, one more caveat: while your ebook is out on loan, you cannot read it, and you can only loan an ebook title (for a maximum of 14 days, it's just as well your Dad reads fast!) once for the lifetime of your purchase. No sending your favorite title around to all your fraternity mates or Bible study pals.
With those caveats in mind, let me show you how I loaned my friend Dan a copy of the Kindle ebook Brazil: Five Centuries of Change…
First off, go to the Amazon.com Web site and choose "Manage your Kindle" from "Kindle" option on the menu on the left side. Now you'll see a list of all the ebooks you have purchased from the Kindle store:

Everything we want is on that "Actions" button, but notice what happens if I click on it to see what options are available for the thriller
Deep Sky
:
Download, delete, deliver, read now, but no "lend a copy". That's what happens when a publisher doesn't allow ebook lending. By contrast, the book on the history of Brazil does have that additional option, revealed when I click on "Actions" there:
That's what we seek. Click on "Loan this title" to proceed…
As you can see, the terms include that this particular ebook can only be loaned out once, for 14 days. It's possible that there are other loan terms and some publishers might be okay with more than one loan, as long as they're not simultaneous, but I haven't bumped into any books like that. Note also that the recipient doesn't need a Kindle device to read the book: Amazon's done a great job of making the Kindle software available for Mac, PC, Android devices, and even iPads and iPhones.
Ready to proceed? Scroll down and enter the necessary information for the recipient:
Here's what I entered, highlighting to Dan that there's a short timespan for the loan and that since we're interested in modern Brazilian history, he might want to skip the early background of the nation, interesting though it is…
A click on "Send now" and it's on its way! Amazon reminds me what I've done:
(That's pretty small, so let me translate: "Your Kindle book has been loaned. The recipient will be sent an email shortly explaining how to get their loaned book. As a reminder, you will not be able to read this book while it is loaned. The recipient has 7 days to accept this book. Once the book is accepted, the recipient will have 14 days to read the book before it is returned to you."
Here's the email that Dan gets from Amazon: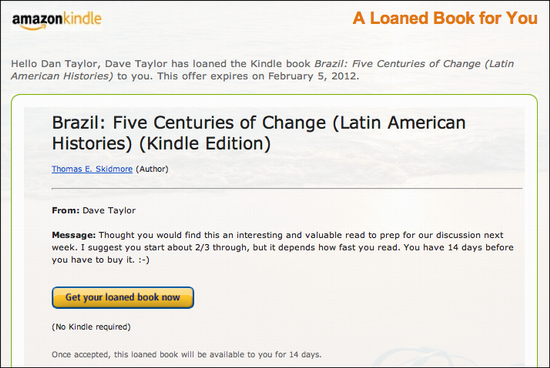 Simple and easy. A click on "Get your loaned book now" and he could be reading it sixty seconds later.
Meanwhile, on my Kindle device, if I try to read the book, here's what I see:
Now, will Dan actually download it and read the relevant chapters? Only time will tell…