My son is really into what he calls "speed metal" and I call horrible loud noise. Even when his headphones are clamped to his head I can hear the guitars and singers screaming into the mic. I seem to recall that Apple added some system whereby I can limit the maximum volume on his iPod so he doesn't go deaf by the time he's 17, but I can't figure out how to do it. In the name of humanity, HELP!
Wow, sounds serious. I know what you're talking about too: I often take the bus and it's amazing to sit three rows from someone with the Apple earbuds and an iPod, with it playing so loud that I can actually recognize the song even with the ambient noise of the bus engine!
Apple isn't the only company facing the concern of a generation of youth going slowly deaf from excessively loud music, but as far as I know, it's the only MP3 player line that actually lets you do something about it. Here's how it's done…
First off, use the "MENU" button to navigate to the very top of your iPod menu, then choose "Settings":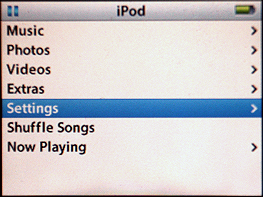 Within settings, you'll find "Volume Limit":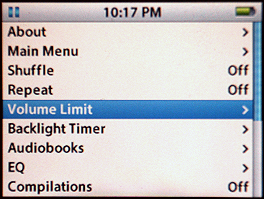 Choose that and you can now specify the maximum allowable volume that the iPod will play by simply spinning the wheel clockwise or counterclockwise: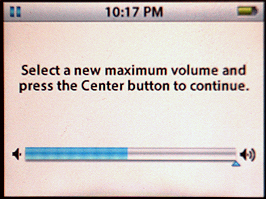 Like your new setting? Push the button in the middle of the wheel to set it, then enter a four-digit combination to lock it in place: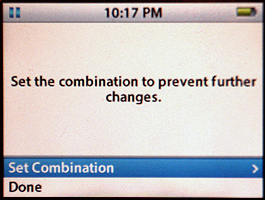 "Set Combination" looks pretty cool, actually, kinda like some safe cracking game or something: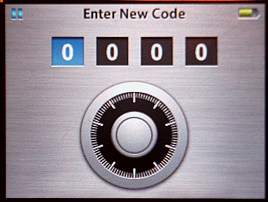 Pick a four digit value that your son presumably won't guess but that you'll remember, spinning to the numeric value and pushing the center button to go from digit to digit.
When you've entered all four, it's locked and the volume is limited as you seek. Good luck!