I just published my first book and am now interested in joining Amazon's Connect program and creating an author site at Amazon.com. Not sure what value it'll have, but I figure it'd be cool to have a personal site on Amazon and it's sure to impress my friends. But… how do I do it?
First off, many congratulations on publishing your first book! That's quite an accomplishment, whether it's 50 pages of extreme sudoku puzzles or an 800 page novel.
In terms of promoting yourself as an author, there are lots of ways you can do that, but I agree with you that getting involved with Amazon Connect is a cool approach. It's also an interesting way to try and connect with other authors too, if you have one or two that are personal favorites of yours.
As Amazon explains, Amazon Connect lets authors:
Communicate Directly With Their Readers – Post messages to readers who have bought their books on Amazon.com. Write on anything from current musings to upcoming projects. Messages will appear on their readers' Amazon.com home page as well as their author profile page.
Increase Readership – Messages posted will also appear on their book detail page(s), reaching new readers with content that can inspire them to buy their books.
Build a Reader Community – Build a one-to-one relationship and develop loyalty with their readers. Use special online tools to create their own profile page with personalized information.
To get hooked up with Amazon Connect, you need to have a customer account, but pay close attention to the warning that Amazon offers:
"To sign up, you will need an Amazon.com customer account. If you already have an account, you may want to consider opening a new customer account unique to this program because when you create your author profile page any customer information associated with your existing account will be surfaced, including reviews, purchase activity, wish lists, registries, etc. Click here to create a new account or click the 'Sign up now' button to begin the AmazonConnect registration process."
As per their guidelines, I opted to create a new account for my own Amazon Connect account. The system sends a confirmation email: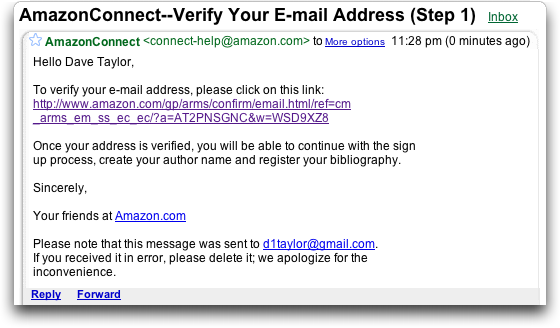 Then we can finally get started with the process of building the Amazon Connect account…
The next step is to choose a display name:

Since I write as "Dave Taylor", I'll use my own name. If you write under a different or assumed name, this is where you'd specify that.
Click "Save your author name and continue" and it starts to get more fun. Now you can pick out your books, and it's already rather conveniently pre-searched for you: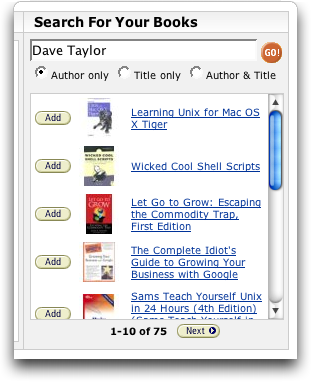 I add my books, all nine that are currently in print, and then specify an agent friend of mine as verifier: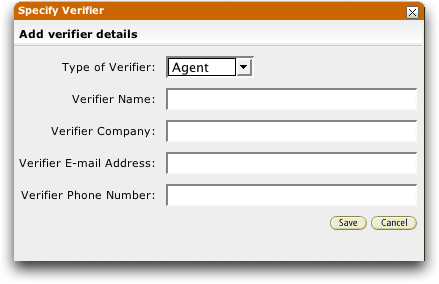 It's important to point out here that some trusted third party is required to verify that you are the author of the book or books you select, which is rather a pain. Make sure you know an agent, editor, publicist or publisher who can indeed confirm your authorship before you get too far into this process.
Enter the person or persons you'd like to have them use to verify your specific titles, then click on the "Verify these titles" button to continue.
Now you'll find that even though they're going to wait to verify that you're the author, you can proceed with building your AmazonConnect site:
"You will receive an e-mail listing the registered bibliography and verifier information you have provided. Your verifier(s) will be contacted in the next 5 business days to confirm your authorship for selected titles. You will be informed of the status of your verification by e-mail.
"In the meantime, you can start working on your author profile page. This easy-to-use page will feature your biography, your bibliography, your interests and more. You must create your author profile page (complete with a photo and biography) before you can post messages to your readers."
What the heck, I do just that by clicking on "Make your profile page great!" and now I have a blank profile to examine: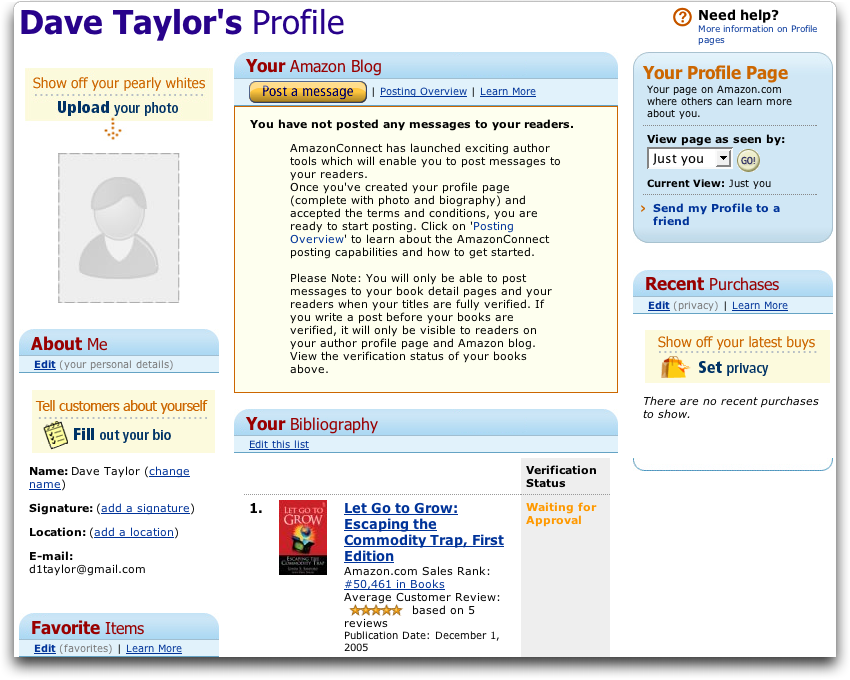 Click to see full size image
At this point it's just a matter of uploading a photograph, writing an introductory paragraph or two for my Amazon Blog, producing a brief bio, adding some favorite books and DVDs, and so on.
As a blogger, I'm particularly interested in Amazon Blog and their guidelines. Here's what they recommend overall: "When posting, we suggest observing "dinner party" etiquette. Engage in conversation with your readers using thoughtful, interesting or amusing dialogue while avoiding profanity and insulting comments."
Specific points they offer for first-time bloggers:
* A conversational, first-person tone
* Updates on your latest work
* Unique, "off the book page" content
* Notes from the road when you're on tour
* Providing answers to readers' questions
Conversely, they warn against:
* Profane or offensive language
* Overtly commercial or sales-related material
* Sharing reviews or press releases in place of a personal message
* Attacks or criticisms of others
* Re-purposing material from books you've written
Not a bad list, all in all!
And finally, the end result can be seen here:
Dave Taylor's Profile at Amazon.com
Interestingly, there's no simple URL that we, as authors, can share with our community outside of the Amazon venue, nothing like a your.amazon.com/davetaylor or similar, even though far busier sites like MySpace have figured it out. Well, it's a work in progress so we'll see how it goes.