I've been running with Parallels for a while on my new Mac Intel system, and am really happy with it. But I really wish I could cut and paste between the Windows apps and the Mac apps, wish it would sync to the correct time, and so on. Is there some sort of Parallels equivalent to the old VMware "helper apps" that you'd install within the guest operating system? I'm running Windows XP.
There is indeed a helper application that you really do need to install if you're running Parallels Desktop on your Intel Mac system, called, ingeniously enough, Parallels Tools.
To install it, start up Parallels Desktop on your Mac OS X system (if you don't yet have this Intel Mac only tool, you can get a working demo copy of Parallels online: download the Parallels demo). You'll need to have configured your virtual OS to include support for a CD/DVD drive, then log in to Windows XP as an administrator. If you don't know what I mean, you probably are the admin for the WinXP system!
Now you'll want to select "Install Parallels Tools…" from the VM toolbar that's part of the Mac side of Parallels Desktop (that is, it's not part of your guest OS):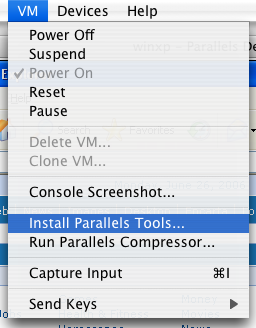 As I indicated, you definitely need to be logged in to your guest OS. Parallels reaffirms that with its warning message: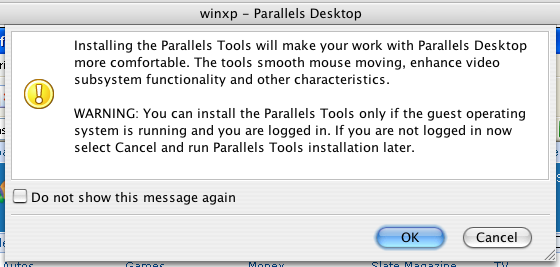 Just "OK" past that — since you are already logged in to WinXP, aren't you? — and the next thing you'll see is the Installer running within Windows for this particular application:
At this point you'll be clicking
Next
a few times to let it tell you about the installation options, etc. The first time you click it'll warn you that they haven't gone through the Microsoft verification process for the extensions so you'll possibly see some warnings, but they're safely ignored:
I didn't find that anything needed to be changed along the way. You'll be asked if you want to install "complete" or "custom": I recommend you install the complete Parallels Tools package.
Finally, installation complete, you'll want to restart your guest operating system (e.g., Windows XP, not your Mac):
Once it starts up again, you'll have a new icon in the clock tray, right next to the time display itself:
That's the shortcut for Parallels Tools. Click on it and you'll be able to configure and modify all of the many utilities included in this useful package:
Without a doubt, if you're running Parallels Desktop you want to also install Parallels Tools too!
Note: If you haven't yet delved into the world of virtualization on Intel-based Macs, please read
How to install Parallels Desktop and Windows XP on your Intel Mac OS X System
.