I want to import my yahoo address book to the Mac Address application on my laptop. I am running OSX 10.3.9. In Mac Address book "help" it says: "If you have problems importing a contact into Address Book, make sure it is a vCard or is in LDAP Interchange Format (LDIF). These are the only two formats Address Book recognizes."
I realize that to export my Yahoo address book it must be in the format of ".cvs"
Obviously these formats do not match so I ask you if you know of a work around solution to this?
I've been running the beta of Yahoo Mail and am surprised you're telling me that's a problem: In the new beta it's a breeze.
Let me show you how it's done. If you can't get to the beta, then try logging out of Yahoo Mail, making sure you have the very latest version of Firefox on your Mac, and log in to Yahoo Mail again. You should have the option of running the beta as an alternative to their rather tired production email interface.
Log in to the beta interface, then click on the small "options" on the top right, which will offer you the choices of "Mail Options" or "Mail for Mobile". Pick the former and you'll promptly get a warning:



Now you'll have a set of different options you can modify: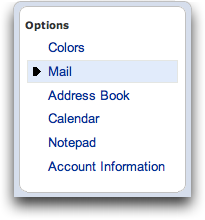 Pick "Address Book" to get to the correct spot in the application. Now you can see the choices, what you seek is obvious: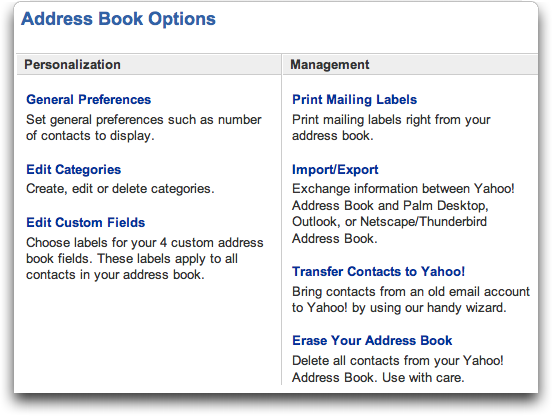 Choose Import/Export and scroll down a bit. Now you can see that the choices have changed and include CSV (that's "comma separated values") along with a bunch more: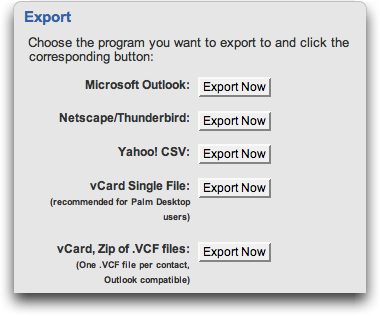 Checking with the Mac OS X application "Address Book", it appears from this list off the "File" menu that it supports the following import formats:


There's at least one match between the two, and you should be able to proceed without any further hassle!