At Blogworld last week, I heard loud and clear from a number of people that it's a good idea to have my Facebook friends notified when I have new blog entries published. Cool. But how the heck do I do that?
I'm just hooking this up in Facebook myself, so I have similarly spent the last half hour trying to figure out how to do it. Even using the Facebook help system, searching for things like "RSS" produce no good results.
The trick is to know that Facebook considers your external blog entries "notes", so to add it you can't just go to your profile and change a setting or two, you need to go to your "Notes" section in Facebook and tweak it.
Start on your home page in Facebook, then look on the right for "Notes":

Click on that and you'll be on your Notes area. Look half-way down on the right side and you'll see "Notes Settings":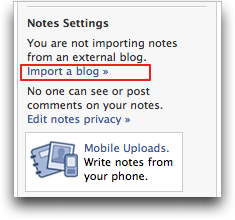 Click on "import a blog" and now you get the key window you seek: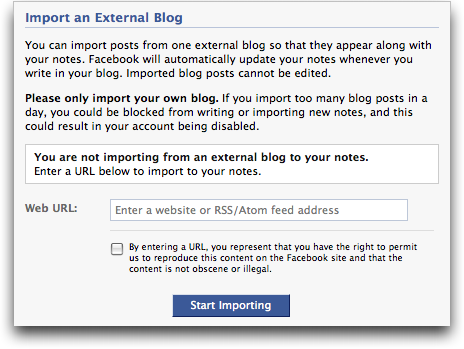 Now, we are talking about
your blog
, right? 🙂
Enter the URL of your blog (you don't have to worry about the RSS/XML/RDF/Atom feed address, it'll figure it out), check the "it's mine" box, and click on "Start Importing".
It'll show you a preview of the import, with a note:
Looks good? Scroll down to the bottom and click on "Confirm Import".

That's it. You can only import one (unless you're sneaky and create a consolidated feed then import
that
instead, but that's beyond the scope of this article).
Good luck!
I'd also like to let you know that I have quite a bit of
Facebook help
here on the site and that I also have an
Ask Dave Taylor Facebook Fan Page
that I invite you to join.