I just got a new Motorola SLVR cellphone from Cingular and it's very cool, but somehow I can't figure out how to use the iPod area of it. How do I hook it up to my Mac and download some songs onto it, and, for that matter, how many songs can it hold anyway?
Thanks to a great PR person at Motorola, I too have a Moto SLVR phone to test, and I've figured out how to use it as a mini-iPod through the Mac iTunes system. Of course, it's pretty easy, so I'm a bit surprised that you're having any problems. Let me step through what I did, and I bet you can do the same thing too.
First off, you need to hook the SLVR up to your Mac via USB. Then launch Apple's iTunes program and just a few seconds later you should see the phone show up on your desktop and iTunes promptly pops up a cheery welcome screen: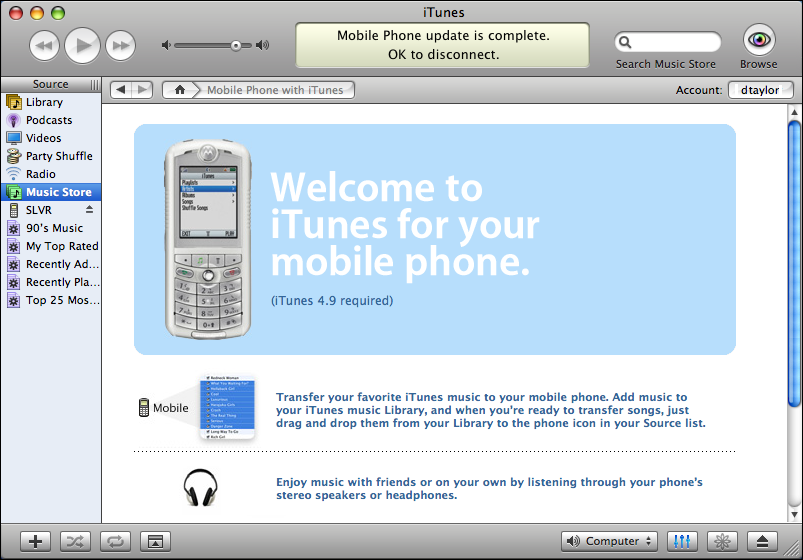 Click to see a full size image
Notice on the top it says "Mobile Phone Update is Complete". Good.
Next step is to determine what you want to call the iPod side of your SLVR and determine a couple of options: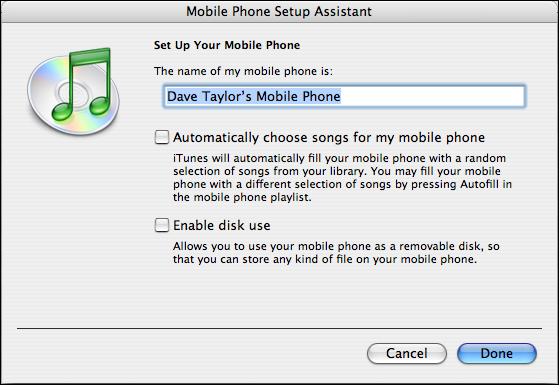 If you want to have the phone "autofilled" you can select the first of the two options, but it's pretty darn easy to autofill your phone later: don't select it here. The second option is interesting to know about: perhaps you'd like to have a meg or two of disk storage hidden on your phone. If so, selecting "Enable disk use" is how you do that.
Now before you go any further, it's important to maximize how many songs you can put on your SLVR by ensuring that you use the smallest possible audio sample on copied tracks. This is easier to do than it is to explain: click on the little iPod icon on the bottom of the iTunes window and you'll see the iPod preferences. In this case, it's your phone!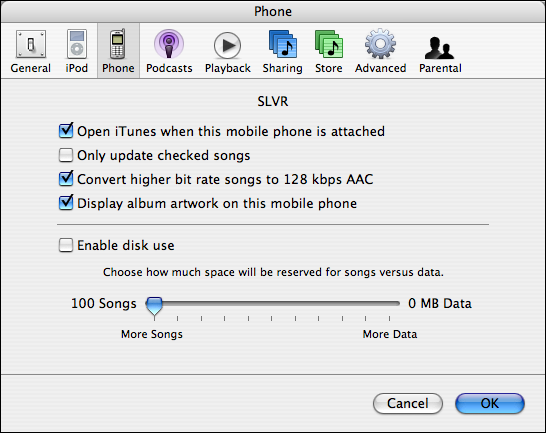 The key setting to ensure: "Convert higher bit rate songs to 128 kbps AAC". While we're here, notice this is also where you can adjust the songs / data balance if you want to use your phone for data storage too. That only works, however, if you selected "Enable disk use" earlier.
Now, finally, you can copy some songs onto your Motorola SLVR by simply dragging and dropping them onto the phone's name on the left column. I picked up a few Spyro Gyra albums and dropped them onto "SLVR", then waited. Get a cup of tea at this point, the USB copies onto the phone very slowly. It took about ten minutes to copy two CDs onto my SLVR.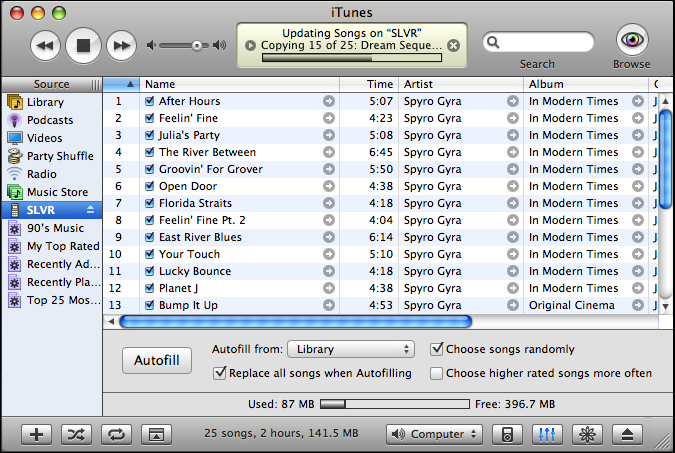 Notice on the bottom the "Autofill" option too. it's an easy way to randomly dump 100 songs onto your Motorola SLVR. It's a really cool idea and, y'know what? If you have a large enough iTunes library, you could well have new music on your phone every few days without ever having a duplicate.
Once the copying is done the top display will say "Okay to disconnect" and you can simply click on the "eject" icon (the tiny triangle over the dash adjacent to the cellphone name on the left column).
Before I leave this topic, however, let me point out that every Verizon customer who suffers through the Verizon version of the Motorola operating system on their RAZR will drool in envy that Cingular doesn't cripple its phones to sell more ringtones. While the SLVR is connected to the Mac, here's what you see if you open it in the Finder:
Want to drop a new ringtone onto your phone? Just drag and drop the MIDI file into "ringtone". New video? Drop it into "video". Photographs? Put them in "picture" and you'll be good to go.
With these steps in mind, you should be able to easily sync your SLVR with your Macintosh, and easily transfer songs onto your phone at any time!
And, by the way, I thought that the Motorola RAZR was a cool phone, but the Motorola SLVR is far cooler and more capable. I feel comfortable recommending it to anyone!