I'm trying to use Apple's slick iTunes program to copy my music CDs into MP3 format so I can download them to both my MP3-capable cellphone and my Sony PSP, but it seems like on the Mac it wants to produce AAC and on the PC it prefers WMA formats. What gives, and how do I change it?
I'm also a bit fan of iTunes, I have to admit, and find it a great app, particularly for free (you can download it from the Apple site: download iTunes), but I have also found what you're saying to be frustrating.
Fortunately, if you don't mind digging into the preferences, you can change your default music format forevermore and find that every CD you rip is ready to go onto any MP3 player you'd like, from a Sony PSP to a Nokia or Motorola MP3-capable cellphone.
On the PC, choose Controls –> Preferences…, then click on the Advanced tab and go to Importing:

You can see here that the default format on my PC is AAC (sounds like yours is probably set to WMA, Windows Media Audio). Click on the "Import Using" pop-up and you'll see that
MP3
is one of the possible formats. Choose it, and click "OK".
Now let's experiment by actually ripping a CD. I'll choose one of my favorite Sting CDs from my library for this task,
Sacred Love
. I insert it into the PC and after just a few seconds it appears in iTunes and all I have to do is click on the "Import CD" button on the top right and it'll start copying all the music onto my computer: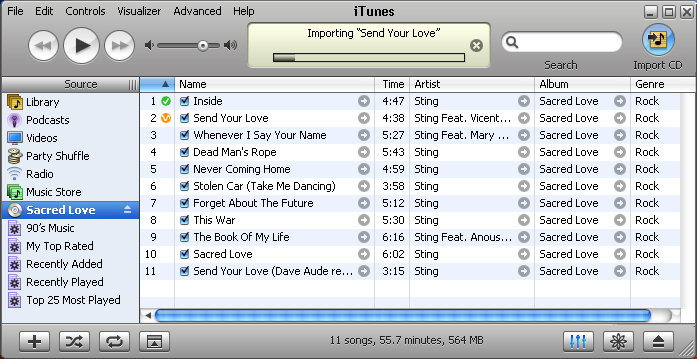 It takes a few minutes, but eventually I have a copy of all the music files in the folder (ready for this?) My Documents / My Music / iTunes / iTunes Music / Artist / Album. Here's what I mean: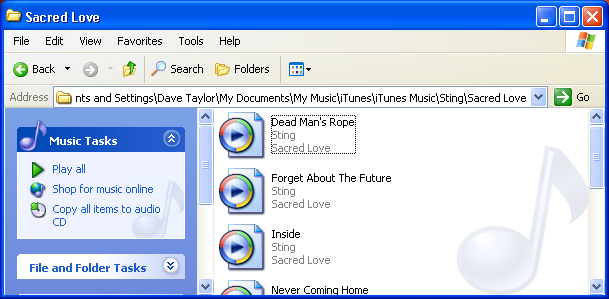 Though the filename suffix isn't shown, these are all in MP3 format, just as we'd hoped, and any of them can easily be copied onto the MP3 player of your choice.
If you're running on a Macintosh, the process is only slightly different. The Preferences option can be found on the
iTunes
menu item, and once you get there, again choose "Advanced" and "Importing":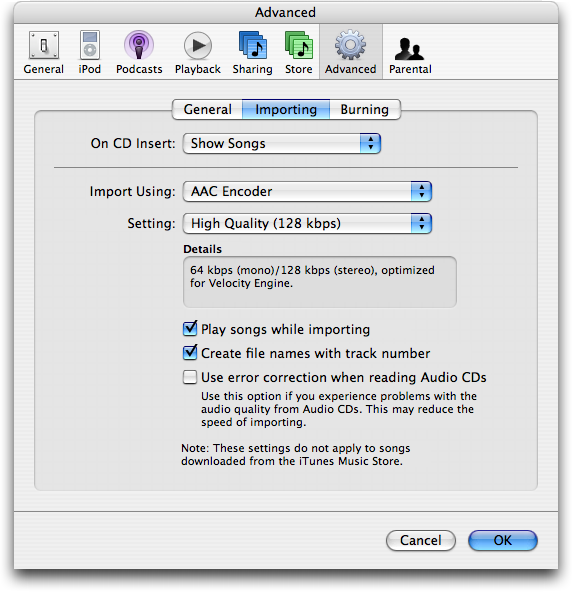 Again, you can easily choose MP3 as the default format, rather than AAC, and you'll be in good shape.
That should get you going with iTunes. If you are using
Windows Media Player
instead, please see the following to learn how to change it to create MP3 rips instead:
•
Producing MP3 files with Windows Media Player