I just got my daughter a psp and I can't figure out how to use it. It has a game with it but I can't figure out how to get it to play.
Do I have to have a memory card for it?
I bought it from a friend that didn't want it anymore and I don't have the little booklet that comes with it. How can I get the booklet?
Can you please send me some info on how to get this thing to do something?
It does light up and it shows me the menu… but what else?
First off, you can download a copy of the original Sony PSP manual directly from the Sony Web site: Sony PSP Manuals. To know which one you want, you'll want to figure out which version of the Sony firmware you're running. You can do that here:
  What version PSP firmware am I running?
You do need a memory card if you want to be able to save games and/or download any audio, photos, video or similar. The PSP comes with a 32MB Memory Stick that's enough for game saves, but otherwise far too small for anything else. Most people buy something larger: I have a 2GB Memory Stick, but even a 512MB would be a big step up if she's really going to experiment with the PSP.
In terms of using the system, your basic navigational screen looks roughly like this: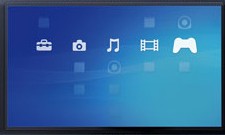 Below the screen is a tiny "home" button on the front. Push that and you should then be able to use the arrow buttons to move around and select between System, Music, Photos, Video, Games and Network. To play a game, go to Games, then use the up and down buttons to find "UMD". Push the "X" button to select the game and you should be able to play it as you wish.
Hope this gets you started. I have lots and lots of additional Sony PSP material on this site too, and a great place to start is here:
Sony PSP Help
.
Enjoy!