Dave, how do I get rid of all these stupid America Online pop-ups that plague me when I use my AOL account? I checked my AOL preferences and don't see anything that lets me turn them off!
In the old days, when AOL seemed to have a competitive business model, they made a remarkable amount of revenue from their pop-up sales offers, and I know more than one person who ended up with stuff from AOL that they apparently ordered by clicking the wrong button to get rid of the pesky window. Nowadays, I think that there's been so much pushback from customers like yourself that they've eased back a bit. Or perhaps it's just that i don't use AOL much any more!
Anyway, it's not easy to find where to disable pop-ups from AOL but here's the trick: Go to keyword Settings (On the Mac that's found at Go –> Keyword, which brings you to this screen: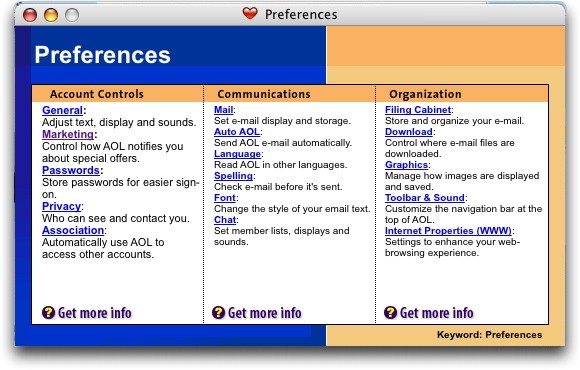 Here you want to click on
Marketing
(it's a slightly different color in the screen shot), though it's well worth spending 10-15 minutes one time going through all of the many AOL preferences. There's quite a bit you can fine-tune about your online experience!
Anyway, click on Marketing and you'll now see: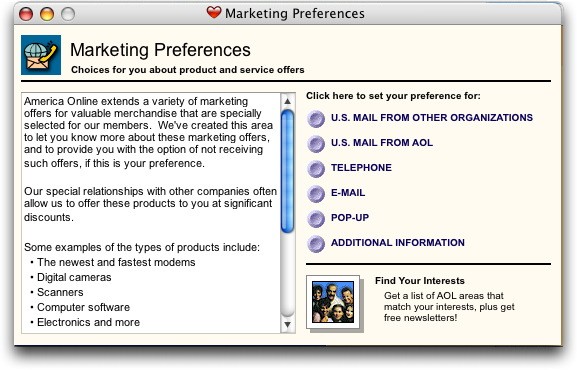 On the lower right is an entry "POP-UP": click on that and you'll be exactly where you want to be: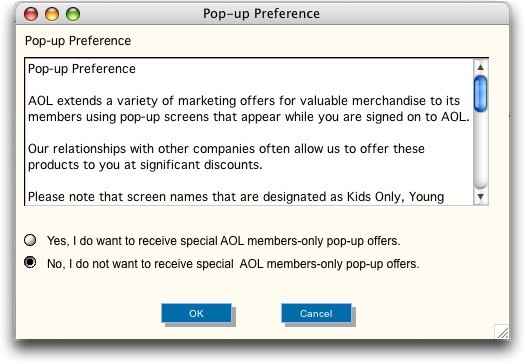 You can see that I've already set my preferences to not receiving pop-ups from AOL about stuff to buy (I already buy too much darn stuff without their help!). Make sure your setting matches, then click OK to set it.
While we're here, also click on "E-Mail" on the Marketing Preferences window so you can ensure that you're not getting spam (well, technically it's not spam if you've given the permissoin to send it) from AOL about stuff to buy or services to purchase. The E-Mail preference window looks familiar: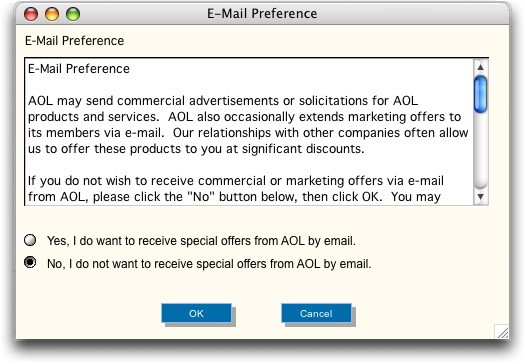 Make sure you have the latter of the two options set and click OK.
Done! That should make using AOL considerably more enjoyable.