I saw that you're covering the Nintendo DS on AskDaveTaylor. Sweet! Now, can you help me? I just can't figure out how to get my Nintendo DS unit to connect to the Internet. I'm trying to get Tony Hawk's American Sk8land to work.
It turns out that Nintendo has a very good tech support center, and even has a separate Web site focused just on getting your Nintendo DS working on a wifi network: NintendoWifi.com.
But I won't make you go there, because I can step you through how to get your game to work multiplayer too!
First step, put Tony Hawk's American Sk8land into the DS unit then go to the Nintendo Wi-Fi Connection Settings area within the game, then pick one of the network "slots" so your game will remember how you've configured it.
You'll have a couple of different connection options at that point, but the easiest is to let the Nintendo DS unit do all the work: choose "Search for an Access Point":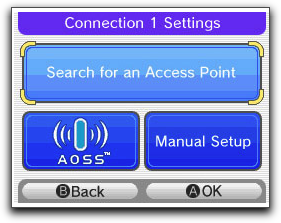 Now, hopefully, you'll be able to see your wireless network (or perhaps more than one). The easiest to work with is an open network, which is indicated as a blue padlock that's open. There are also red padlocks (if your system uses WEP protection) and grey padlocks (which are bad news: the Nintendo DS can't work with the security system on that particular unit, probably WPA security).

If you have an open network, just click "OK" and it should work just fine! If it's a red padlock, it'll prompt you for a password: you'll need to know the password of the wireless access point you're using to get past that. If it's grey, well, try finding an open network somewhere else you can use.
Hopefully, that'll get you online and ready to play American Sk8land with your pals!