I know that Yahoo and Google's Gmail are probably more trendy, but I'm interested in getting an MSN Hotmail account. How do I do that and what should I consider when I'm signing up?
Signing up for a Hotmail account is a breeze, actually. Start here: Sign up for an MSN Live Account (they're all the same backend system, btw).
Your first choice is to use an existing email address, which won't help you with Hotmail, needless to say, or to actually sign up to get a Hotmail account:



Choose the option to sign up for Hotmail and you'll now have a number of different sections you'll need to fill out, starting with your desired "email handle". You can easily spend rather a while at this point trying to figure out exactly what is available. For example: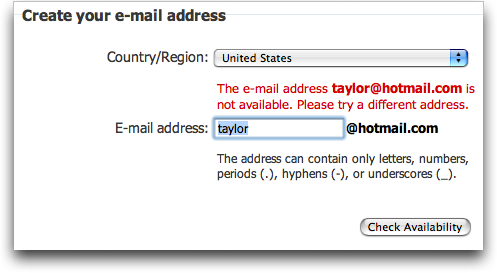 As you can see, someone got to
taylor@hotmail.com
before me, darn it, so I can't use that address. A bit of experimentation, however, and I find a good match and am ready to go to the next section where I create an initial password. As always, use a complex password with letters, digits, and some punctuation too.
Next up is where many people end up getting messed up, the "reminder" question: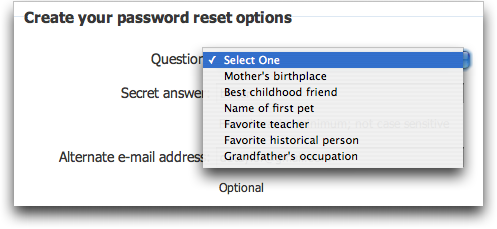 As you can see, there are a number of different questions you can use to help you prove you're who you say you are if you lose or forget your password. Whatever you pick,
remember it well
as it's quite possible you'll need to use it again down the road…
The next block asks for your profile information, including the all-important zipcode field:


Why is the zip code so important? Because almost every time I get a query from someone who needs to recover their account access, they've forgotten what zip code they used when they signed up. Best, of course, is to use your actual zip code, but that can be a bit of a trick if you're not based in the United States. Of course, if you specify in the very beginning that you're not based in the US, the profile area changes to ask for your postal code, province, etc. Some countries (like Syria) have no postal code, so it's not even an option for them.
Anyway, suffice to say that your best bet is always to use accurate and correct information as best you can when you're signing up so you avoid trouble and problems down the road!
Finally there's a captcha block to ensure that you're a person, not a robot or spam application, and you get a chance to read the Hotmail terms of service and click on the all-important "I Accept" button.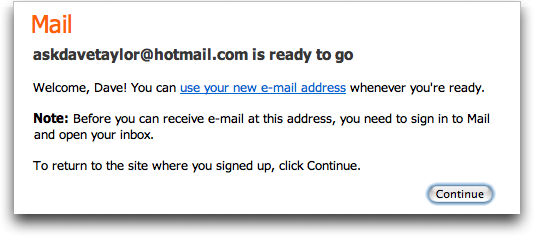 That's all there is to it. Click on "Continue" and you're all hooked up and ready to go with Hotmail. Congratulations.
Oh, and don't forget the many
Hotmail Help
articles here at AskDaveTaylor too, now that you're signed up and ready to go!