Most of my friends have nice MySpace URLs that let them easily point new friends to their profiles, but I haven't seen where I can set up one like that for myself. Instead I have some lame eight digit number like 84030403. That sux. How can I get this working?
Well, maybe your setup is different to mine, but when I go onto MySpace and look at my own profile by clicking on Home in the top left corner, right below my picture is a little red box that makes it pretty hard not to figure out how to set up a unique URL:


Click on that and you'll have the chance to specify what URL you'd like — assuming it's not already taken, of course — but you'll also get this rather puzzling warning:
"Your Display Name is: Dave. You can change your Display Name as often as you want, just like you always have. But now we have a new MYSPACE NAME/URL feature. Each user can pick a unique MySpace Name. It will become your own custom URL. THIS DOES NOT AFFECT YOUR DISPLAY NAME. You'll still be able to change the name that appears on your MySpace profile whenever you want. But you won't be able to change your MYSPACE NAME/URL once you pick it, so be careful!"
What they're trying to explain here is that MySpace actually works with four different name/key identifiers for each user. There's your email address, your "display name" (mine here is "Dave" and is certainly not unique on MySpace!), your URL shortcut name, and your "Real Name". Let's just focus on the URL, however: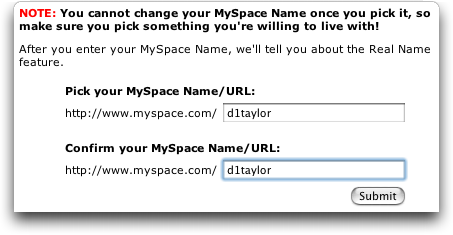 Click "Submit" and then you'll get this entertaining series of confirmation dialogs. First:


then


Then, finally, it'll check to see if your selected URL name is available. If it is already in use, then you'll see

Error: This username is not available! (This username has been taken by another user)

in which case you'll now be invited to enter your real name.
Should you? Well, MySpace assures you that your real name will be private and will never show up as the result of a search, so it's probably safe, and I've certainly opted to do so, but you'll need to make up your own mind in this regard.
Once I enter my real name and press "submit", I end up here:


Nice. Oh, and MySpace also conveniently gives you the HTML necessary to add this sort of spiffo link to any of your other profiles, your blog, or your Web page:

Find me on MySpace and be my friend!

Hopefully you'll have as easy a time of it with your own custom URL!